I read a really interesting article I read this morning on The Guardian's Comment is free website:
'A case of never letting the source spoil a good story'
subtitle: Perhaps it's too embarrassing for some writers to risk linking to primary sources that readers can check for themselves
Wherein Ben Goldacre concludes:
But more than anything, because linking to sources is such an easy thing to do and the motivations for avoiding links are so dubious, I've detected myself using a new rule of thumb: if you don't link to primary sources, I just don't trust you.
Good on him!
Providing original sources to back up assertions seems unfashionable for some bloggers and many internet commenters. I guess my background in journalism, and particularly political journalism where claims of 'I was misquoted' or other cavils are deployed in the heat of political rivalry, makes me careful to be able to substantiate claims, or to choose language to phrase such claims to properly reflect any ambiguity that exists.
I know I've annoyed some people with my 'cross-threading' and linking to original sources or background material. (I know because they complain about it.) But quoting sources really is a professional way to extend an argument, in my view, as we've discussed.
Just last night I saw some speculation online about a property spruiker by the name of Sean Wood — and a question about whether he'd actually been connected with a questionable scheme called 'Blue Peak Wealth Management', to sell 'licences' to property finders … and also to sell apartment developments and other property 'investments' to people seeking 'property education'.
PropertyTalk forum Moderator 'Perry' asked the question of another poster 'Sharpie':
Can you substantiate your assertion about Sean Wood being
associated with Blue Peak? Wasn't Blue peak a Phil Jones and
Steve Goodey run/owned/operated/fronted outfit?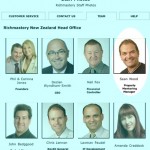 Such is the apparent stigma attached to the Blue Peak fiasco that some people, including Perry, were questioning the claim of Sean Wood's involvement in Blue Peak Wealth Management. (BP ended in tears, by the way, according to this article in the Sunday Star Times: Blue Peak faces angry backlash.)
I recall that Sean Wood was a promotional face of the business. He was also one of three directors of Blue Peak and the sole shareholder/director of one-third Blue Peak shareholder Citylink Property Masters Ltd. At the same time, it seems, he was acting as property spruiker Richmastery's 'Property Mentoring Manager'.
This is easily demonstrated with a link to one of his sales letters … in this case for the 'Saffron' apartment development offered to the public as 'Auckland's second highest building' in 2007 — without a building consent — and a quick search of the Companies Office records.  The Sunday Star Times reported on Wood's sales techniques, and directorship of Blue Peak, in these terms:
At a seminar organised by Richmastery last week, the units were being offered for sale through a company called Blue Peak Wealth Management, which is one-third owned by Richmastery founder Phil Jones.

… At last week's seminar, Blue Peak director Sean Wood encouraged potential investors to sign sale and purchase agreements for the units on the spot, [Comment: On the spot!] saying that their price would be increased by 10% the following day, and if investors signed up on the night they would make an immediate capital gain. — SST on Saffron launch 24June2007
So, no controversy there, if one links to sources. Hard-selling Sean Wood was clearly associated with the Richmastery and Blue Peak enterprises selling 'investments' to property education 'students'. [Disclosure: I was party to a copyright lawsuit against Richmastery — details here.]
Thinking about it, I'm surprised there's not more real stigma attached to Sean Wood as a salesman of the leaky/rotten homes Sacramento Apartments about which he boasted he sold 149 units, according to a 2008 article in the NZ Listener — gee, I wonder if he used those same hard-sell  'sign the contract on the spot, the price is going up 10% tomorrow' techniques to pitch Sacramento units?
Going for gold

By Matt Nippert NZ Listener 22 March 2008

It's Monday night at the Spencer on Byron Hotel on Auckland's North Shore, and a red Ferrari is parked conspicuously on the forecourt. The owner, a tanned man in a black and gold shirt with the top button undone to display a thick gold chain, isn't shy about where he got his bling. Sean Wood's Ferrari carries the personalised plate PR0PAT.
Although property-market experts are predicting the housing market is heading for a storm, Wood sees more than a silver lining: he gives the impression the entire cloud is 24-carat gold. "All property has growth," the microphoned Wood tells the 20 people attending his property-market seminar, "Your Questions Answered".
The market, Wood confidently predicts, is "not going to go down".
But first, introductions. Wood is a former real estate agent. "Have you guys heard about Sacramento in Botany Downs? It's been in the news recently," he says. (The development in an Auckland suburb was recently described by the New Zealand Herald as "New Zealand's largest rotting housing disaster".) "I sold 149 of those units," he says proudly. But now? Wood says he's retired and owns 35 properties with a combined value of $15 million.
He puts his success down to involvement in a consortium called Richmastery – and he devotes more time to urging seminar participants to sign up for an $8000 mentoring programme run by the same outfit than answering questions. … read the full article
Sure, Sean Wood was a real estate agent, not an architect, but wow, boasting about selling Sacramento apartments, which have shipwrecked so many peoples' hopes and dreams, seems pretty 'off' to me, personally.
Anyway, I realize that I have, myself, already adopted Ben Greenacre's rule of thumb: If you don't link to primary sources, I just don't trust you. And, I guess, if you've got a demonstrable track record like Sean Wood's, sorry … I don't trust you either, MUFFIT.
– P
+ UPDATE: A couple more 'sources' on Sean Wood and his track record popped up today: check this news story: "The company and director [Sean Wood] were found guilty in Manukau District Court of undertaking unconsented building work and failing to comply with a notice to fix and fined $30,000."
Facts are stated to the best of my knowledge and commentary is my honest opinion. Corrections or clarifications are always welcome by email. Comments are open.
– Best wishes, Peter Aranyi © 2011 All rights reserved.