It strikes me as ironic that the banner ads on PropertyTalk (the site I celebrated and linked to yesterday) now appear to feature ex-Richmastery property spruikers Sean Wood and Steve Goodey in their latest incarnation. Er, yuck.
These two wide boys, graduates of (spat out of?) the Phil Jones charm school, have apparently divorced their latest former loyal confederates (who've fallen on hard times, tsk) and partnered up (cue song: Endless Love) to bring their brand of self-aggrandised spruiking to a wider public. How long will this marriage last, I wonder?
I've discussed these two smooth-ish operators and their established track records mixing 'education/mentoring' with real estate sales (in Steve Goodey's case, even collecting a finder's fee as a Richmastery franchisee for 'finding' for Richmastery 'students' apartments to buy in his own development!) I remember (see my post I think I would die) when Steve was so fulsomely praised by his then-partner in NZ Property Guru's [sic] Dean Letfus in these terms:
In a pool of sharks I found Steve to be the "real deal"
Nice testimonial. But now Steve's left Dean, apparently, and moved on to play in another pool — with Sean Wood.
Sean Wood's track record is just as inspiring (not quite the word I was looking for).
Speaking personally, these two spruikers strike me as the types who would say anything and claim anything about themselves to sell themselves — no matter how hyperbolic or suspect the claim. Steve Goodey describes HIMSELF as "…a NZ property investing icon who has established a proven track record of local success for himself and the select few he teaches." Wow! An 'icon'(pfft!) The 'established proven track record' part is right … but as what, exactly?
In a similar vein, it seems to me that Mr 'I sold 149 Sacramento Apartments' Sean Wood has revealed he's willing to anonymously pose as his own satisfied customer and in that guise, to speak extremely highly of himself.
Here is sockpuppet/alter-ego MUFFIT (revealed as 15 minute man Sean Wood here) responding to a suggestion on PropertyTalk (actually by me) that perhaps Sean Wood's business practices in 2009 with Don Ha would possibly resemble or emulate his business practices of a year or two earlier as a Richmastery 'mentor'.
Sean Wood says: "Wood is a great mentor, I know as Ive [sic] been through his course" … umm, Yes, Sean. But isn't that because it's run by you?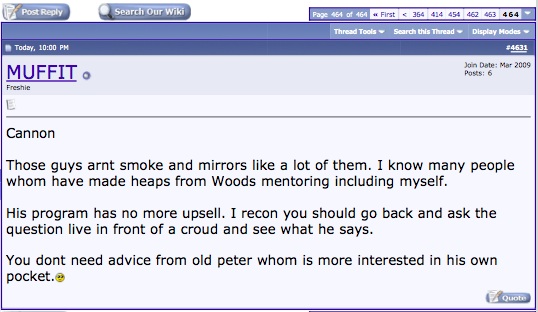 Classic line from Sean Wood: "I know many people whom [sic] have made heaps from Woods [sic] mentoring including myself." Hilarious!
—
As you might imagine, I am amused and nonplussed to be linking to PropertyTalk while these rubbery salesmen (IMHO) are actually using that fine website to offer punters the chance to "Be In The DRAW For A Chance to WIN $100,000 CASH *Terms & Conditions Apply" … Oh yes, that's real investor-bait, that is. Not.
I like PropertyTalk and support it, but ads like these have always made me queasy about my friends' site — as I have told them. (The censorship can be alarming too … but we've discussed that enough recently. It's their sandpit, their rules.)
– P
PS: It's possible that some readers will see any mention, anywhere of these roosters as good for their 'profile' on the basis of Brendan Behan's oft-quoted 'There is no such thing as bad publicity except your own obituary.' … and yes, I allow that is a possibility, although I don't personally agree, in these days of ubiquitous social media. (And their pressure on PropertyTalk to censor discussion and ban 'certain posters' implies they don't either.)
Facts are stated to the best of my knowledge and commentary is my honest opinion. Corrections or clarifications are always welcome by email. Comments are open. [As noted, screen shots in this blog post are from PropertyTalk.com. Some have since been removed from display.]
– Best wishes, Peter Aranyi © 2011 All rights reserved.