A few days ago in the context of the public discourse around plain packaging legislation for tobacco products, No wonder tobacco co.s are SQUEALING … I briefly mentioned a PR flack who appears to be an advocate (paid or unpaid? Not clear) for Tobacco manufacturers.
This spin doctor* Carrick Graham follows me on Twitter and vice versa, [UPDATE Mon 4 July: Oops, not any more see http://twitpic.com/5l0kzg.] so I'd noticed his tidbits invective stream of slanted argument towards the tobacco plain packaging legislation ramping up … and prior to that observed his baiting of anti-smoking groups like ASH. I reached a personal conclusion (not rocket science) that this guy seems to peddle Big Tobacco's talking points.
Today he let his Tweetstream know that he's quoted in the NZ Herald today as a 'public relations spokesman' for ex Hanover Finance partner Mark Hotchin, who I last referred to Defamation? Or law of consequences? and before that in Fallen hero? (click here for a full list of Hotchin/Hanover mentions here at ThePaepae.com).
It appears this flack has joined/taken over from Klaus Sorensen, who, when acting as a 'spokesman' for Mark Hotchin and addressing the controversial Paratai Drive mansion PR disaster was reported as uttering these immortal lines, belying his earlier description as 'the NZSE's number one spin-doctor':
We're not saying why it's being sold, we're just simply saying that it's going to be sold and people are just going to draw their own conclusions," Mr Sorensen said. "I mean, the reasons are probably pretty obvious." — NZ Herald 26/6/10
Today's Hotchin spin doctor Carrick Graham wanted to let his Twitter followers know about the Herald story that reported someone (ahem) has set up a locked Twitter account for Mark Hotchin (ooooh, who?), and also a reputation damage control website to give 'his responses to various issues that will no doubt be arising in the next few months' and to help address repetitive 'misinformation' about Hotchin in the media.
The Herald said the website was launched 'yesterday' … but Deep Throat from Parnell told us all on Twitter 'the site has been live for 5 months'. (Oops. No one noticed? Perhaps it's one of those special covert PR campaigns?)  Hanover Finance already runs an opinionated 'news' page on its website which tackles media injustice as it sees it — mainly by regurgitating agreeable blog comments (PDF 300 kb). Perhaps this is a new 'strategy'?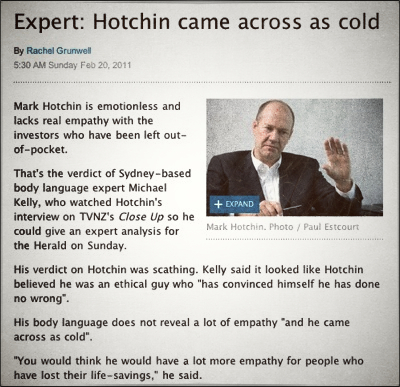 Getting your point across
It's been reported that the same gums-for-hire was involved in the very selective Hotchin 'media blitz' earlier this year which saw Mark Hotchin front up to certain media (some points for that) but, sadly, as I saw it, appeared pretty 'cold'… then quickly becoming queasy about the repeated genuflecting, ash-eating and rending of clothes demanded at the altar of pubic opinion. Watching TVNZ's Mark Sainsbury shallowly gumming Hotchin with variations of the same 'But are you sorry?' question got old for the viewers too. But at least Hotchin got to promulgate his smear on the Allied Farmers guys who'd defensively criticized aspects of the Hanover 'asset' transfer circus and barbecue. So, perhaps, mission accomplished?
As I mentioned, there's a particular kind of anger and outrage sparked when you feel someone has shafted you financially.
Someone who has made promises that you trusted or made claims of financial 'strength' or 'integrity' or 'security' … using words and documents which basically say 'you can trust me' or claims that things are 'designed to withstand storms' … really does set themselves up for a fall when things go against them.
It creates bilious feelings when someone whom you trusted (rightly or wrongly) — because they made statements, promises and 'projections' on which you relied — lets you down in a way that affects you financially.
It may be they may have promulgated claims of financial 'strength' or 'integrity' or 'security' … using words and documents like 'first ranking debenture', 'security', 'guaranteed' and slogans like 'you can trust us'. (These devices along with copious declarations of their own good character are often used to soothe potential targets' fears.)
With a track record of broken trust (that's an irrefutable matter of public fact, not opinion) it is Fantasyland stuff for Hotchin or anyone else connected with Hanover to expect to talk their way out of public opprobrium. It also strikes me as faintly ridiculous to sue a newspaper and columnist over published criticisms of your business affairs because you allege these criticisms and not the events themselves — failed business, ugly collapse despite the 'withstand all conditions' hyperbole, failed moratorium, failed sale of 'assets' to Allied Farmers — cost you 'reputation and opportunities'.
Of course, that could just be my jaded view.
Anyway, to today … My casual PR-makes-strange-bedfellows response to the spin doctor's Oh-look-I'm-in-the-paper! tweet today was a light-hearted comment :
… Hotchin & tobacco. A client list to die for?
To which he immediately spat back:
Being holier than thou I see. … by the way; you have no idea who my clients are or have been & secondly you've never been in the same room so have no idea.
Oh zing (not!) [My standard 'I make no claims to be pure' disclaimer applies, as always.]
I don't know who the mouthpiece's clients are. (Did I claim otherwise? No.) However, it seems reasonable to extrapolate from Carrick Graham's own proclamations, his own transparent campaign to 'take it to' the anti-smoking groups and observations of him exercising his perfect freedom to spin against the enemies of selective Truth, EU Justice and the British American Tobacco way. Maybe he's doing it all as a hobby.
Any such inference can be dubious, naturally. But I do read, chum. That's the cool thing about the interwebs … see Spin doctor goes from tobacco to Hotchin NZ Herald 20 Feb 2010
The proof is in the pudding
Better still, let's take a recent sample (just over a day's worth) of Carrick's Tweet stream and ask yourself if there's a theme:
RT @australian EU uneasy with plain packaging | The Australian http://bit.ly/

[snip]

#nottidy
Why is http://t.co/

[snip]

so worried about the OIA release of info about them? @minhealthnz
@CitizenBomber – Another attempt to gain publicity Bomber on the back of someone else's efforts ? @CactusKate2

[Comment: see ** below]

@ASH_New_Zealand @bernardchickey @marcuslush @RadioLIVENZ – Gee there's an expert on the expropriation of intellectual property rights
@cjsnowdon Great to see @ASH_New_Zealand supporting billions of taxpayer dollars going to tobacco companies in compensation.
So the EU is now questioning Australia over their approach to taking a company's trademarks http://t.co/

[snip]

The EU paper is asking Aust to make available what scientific data links plain packs & reducing consumer appeal – http://t.co/

[snip]

EU asking what impact assessment Aust carried out prior to telling world they're introducing plain pack legislation http://t.co/

[snip]

Aust faces more ??? from EU over poorly thought out legislation. Did Aust analyse potential impact on illicit trade/counterfeited tobacco?
Bang: EU asking how Aust took account of WTO TRIPPS agreement http://t.co/

[snip]

Brussels clearly not happy with Australia
Currently reading 'Pineapple Express' Kronic recalled http://t.co/

[snip]

http://t.co/lKVFgJU
Nanny State Propaganda http://t.co/

[snip]
It's only 'propaganda' if you're talking about the other side, right, Carrick?
– P
* spin doctor — a spokesperson employed to give a favorable interpretation of events to the media [Oxford Dictionary]
** Nice to see a mention of Cactus Kate and her recent argy bargy with Martyn (bomber) Bradbury re his opinion of her suitablity (or not) to be an ACT parliamentary candidate. I like her, even if she does affect a 'cold bitch' persona. (My view: it's the House of Representatives. Sure, let her in if they get the votes.)
Perhaps there's a sliver of affinity between the 'media communications professional' we're discussing here and Cathy Odgers (or quid pro quo?) reading Cathy's strident defence of Carrick earlier this year ("Non-smoker who six years ago represented tobacco sets up media appointments for Hotchin because he can't do that himself") from criticism and wholy-irrelevant mention of his father and a years-ago car accident. She's right to identify those as possible shortcomings in the original Herald piece. Although the 'non-smoker setting up appointments' schtick has, it seems to me, been undermined somewhat by Carrick's actions since. And for the record, I was a big fan of his father, as I said here and elsewhere. But that has nothing to do with these issues.
Cactus Kate's blog posts in defence of Mark Hotchin also feature somewhat prominently on his two reputation recovery websites, along with some of Cameron Slater's more ghastly rhetoric. Bleurgh.
Facts are stated to the best of my knowledge and commentary is my honest opinion. Corrections or clarifications are always welcome by email. Comments are open.
– Best wishes, Peter Aranyi © 2011 All rights reserved.