Well, well. Just a few weeks after my mild curiosity-fueled questions about Simon Lusk (see 'So, who is Simon Lusk?') he's in the news. Again.
TV3 News reports in 'Secret minutes reveal split in National's ranks':
Leaked minutes of a National Party board meeting in March show major concerns over a party member who is so close to some of the party's MPs that he presents a serious risk to the party and its image.
But when 3 News asked Prime Minister John Key to explain, he said he did not know of any concerns.
Under questioning though, he did start to recall.
The man in question is Simon Lusk, who loves the outdoors but who also sees himself as a big fish in the National Party.
3 News is told he gets paid to give strategic advice to about a dozen of the party's MPs and aspiring MPs.
But secret National Party board minutes from March released to 3 News show the party is so worried about Mr Lusk's influence that his "agenda represents a serious risk to the party"….
How interesting.
I haven't thought much more about Simon Lusk than I did when I last wrote about him, but, since then, we've seen the further public unravelling of the fringe-dwelling ACT party.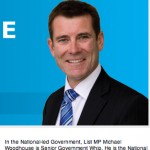 According to some insiders, the ACT Party leadership coup by National Party geriatrics Don Brash and John 'Amnesia' Banks was carried out with the help of the Machiavellian Simon Lusk and his lovely assistant Jordan Williams. (Look how well that's worked out for ACT!)
Perhaps the National Party's senior whip, Dunedin List MP Michael Woodhouse (right) is right to be worried. For him to report (details here) that Simon Lusk poses a 'serious risk to the Party' and has a 'very negative agenda for the Party' … well, gee. That can't be good.
Play it again, Simon
In this context, it's worth listening again to the Trevor Mallard interview on Radio NZ's Morning Report 29 March 2012 about Michelle Boag's email to ACC Minister Judith Collins getting leaked. (Apparently this is the interview which prompted Judith Collins to threaten defamation lawsuits …still available for your listening pleasure.)
Simon Lusk and his 'below the radar' activities feature. See what you make of it.
Listen via radionz.co.nz here:

Here's the MP3 file (1.5MB)
– P
http://podcast.radionz.co.nz/mnr/mnr-20120329-0721-labour_claims_judith_collins_is_the_source_of_acc_leak-048.mp3 1520815 audio/mpeg