I love the irony of this. Here's what caliginous National Party 'campaign strategist' Simon Lusk says on his (oh look, suddenly not password protected for now*) website about keeping a low media profile — trying to channel Bob Jones in the last sentence, methinks:
Simon does not comment to the media because he believes the candidates or spokespeople should deal with the media. A campaign manager in the media does not win votes.
Media attempting to contact Simon will be met with the same response – silence. Journalists should not take this personally; it is a deliberate policy that Simon has no intention of changing, especially since the media have an unfortunate habit of interrupting fishing or shooting.
Almost a year ago, leaked National Party board minutes were reported by TV3 wherein Simon Lusk was described as someone motivated by 'a very negative agenda for the Party' 'that poses a serious risk to the Party'. See The Simon Lusk stigma?
National Leader John Key recently repeated his description of Simon Lusk as 'a minus one' …
"I think I once described [Lusk] on a scale of 1 to 10, as minus-1," Key said today. "I stand by that view."
… which really only goes to show Simon Lusk is not on John Key's team. (So whose, then?)
But then, here's today's interesting 1,800 word profile by the resourceful and persuasive Andrea Vance, who it seems he (gasp) talked to…

Bagman or bogeyman? Simon Lusk is a shadowy figure in the National Party, credited with getting several MPs elected – yet publicly discredited as irrelevant by John Key. Andrea Vance reports.

Simon Lusk is one of the most intriguing figures in politics. The arch political fixer shuns the limelight, rarely venturing from his home in Havelock North to Wellington. He maintains a strict silence about his clients – mostly wannabe National MPs.

He is said to charge $10,000 to manage an electorate election campaign, and his successes are believed to include National's senior whip Louise Upston, and MPs Chris Tremain, Nicky Wagner and Sam Lotu-Iiga. …
Worth a read [here]. According to Andrea Vance's article, disgraced National (now ex-)backbencher Aaron Gilmore "…believe[d] Mr Lusk was the architect of his downfall – he was a recipient of one of the infamous "utu" text messages."
Interestink.
For me, this was the best quote: "Many on the Left lack grace and I find it hard to deal with people who lack grace." Says Simon Lusk.
– P
* 18 months out from an election, perhaps he's doing some self-promotion. How it used to be:
Other posts that may be of interest: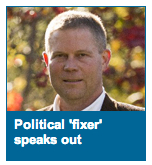 I'm still chuckling that Mr 'My lips are sealed' Lusk is being spotlighted like this (left). As he says on his website (when you can see it):
Media should refer to the media page, and understand why Simon does not talk to the media.
Bwhahaha.
(A few more thoughts in comments, below.)