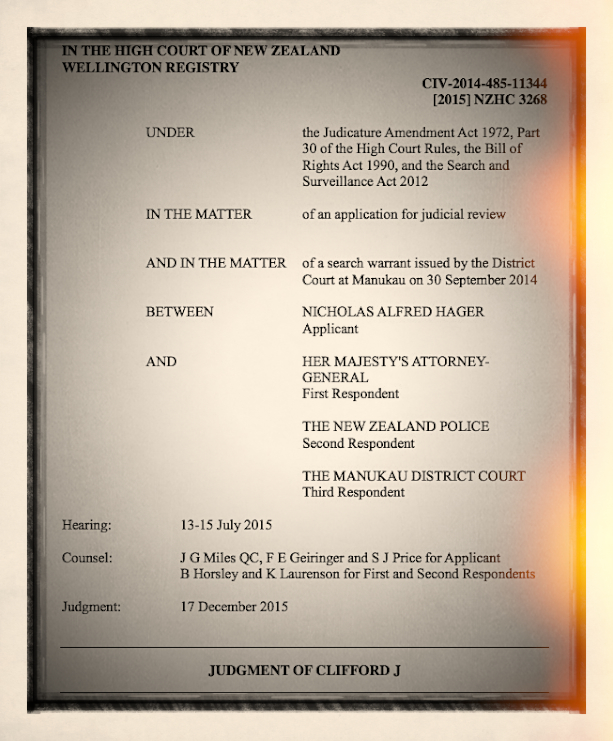 It appears Judge Clifford was not amused nor mollified by the weasel words of the police and their post-facto legal enablers trying to portray their 10-hour full-spectrum fishing expedition at investigative journalist Nicky Hager's house as somehow 'OK'.
You can read Clifford's High Court judgement in full (as I did last night) here:
Hager v Attorney General (PDF 500K)
That police failed in their 'Duty of candour' in this case doesn't surprise me. I hope Judge Ida Malosi, who issued the "fundamentally unlawful" search warrant (which I posted here) gives the Manukau CIB crew a dressing down for (what's the nicest way to say this?) improperly briefing her. I expect she will, at least, approach the police with more scepticism, and demand more detail, ask some hard questions, from now on. (After all, it's not a good look for Judge Malosi, is it? Having a judicial document struck down like that.)
The evidence presented to Judge Clifford that police officers also bungled their duty while actually carrying out the intrusive search to apply proper controls and discipline – not just in their treatment of a claim of privilege – is, frankly, appalling.

That business of them photographing Hager's documents and emailing them around for inquiries as they were supposedly sealing them for a later decision by the High Court as to whether police could legally access the documents — well, gee, that makes them look slippery and dishonest, doesn't it?
Combine that with Judge Clifford's comments effectively accepting that the Crown/Police side had been dodgy in its compliance with its Discovery obligations for this judicial review, and one can't escape the impression the policemen and their lawyers weren't playing with a straight bat – which is disappointing, eh?
There's this from Radio NZ today, citing Peter Dunne:

Here's a Morning Report interview with one of Hager's lawyers Felix Geiringer discussing the 'fishing expedition' and suggestions of political pressure behind the uncharacteristic police zeal in this case …
WHO were they trying to get Brownie Points from, do you think? Hard to say. But once again, Rod Emmerson is so good…
– P
http://www.thepaepae.com/wp-uploads/2015/12/mnr-20151218-0747-police_efforts_in_case_point_to_political_influence_-_hager-048.mp3 2264543 audio/mpeg