Wow. At the risk of being terminally self-referencing, I just became aware of a campaign to retweet links to the mammoth comment thread here on ThePaepae.com about the refund movement aimed at Shaun Stenning's twalk and snipr internet marketing schemes and Dollar Rose 'investments' (see Is this how Shaun Stenning handles a request for a refund?) Dissatisfied and disillusioned ex-customers are apparently in no uncertain terms warning the online world to avoid Shaun Stenning — in other words, it looks like a 'reputation' is spreading.
I read this comment when it was first posted last month:
…the Indonesians are on a re-tweeting spree – http://twitter.com/?q=shaun+stenning#!/search – presumably, after being duped…'AGAIN' by Shaun Stenning, for signing the RA?
… but really didn't think any more about it. Then tonight tootling around Twitter I saw a LOT of (about 200?) retweets along these lines:
RT Proudly Present Shaun Stenning as A Real Scammer. Pls Retweet 2 Save Others from This Liar! htxt.it/vklI
A bit of closer inspection shows there is a concerted campaign but actually by not-all-that-many people (maybe sockpuppets?) to repeatedly put those links out there. [For the record, I don't know who they are and it's nothing to do with me.]
And actually, gee, I don't know how effective (or otherwise) their efforts will be.
I can and do sympathise, of course, with the frustrated former 'students', clients and investors (ahem) in Shaun Stenning enterprises … given the social media 'training' (cough) they received, I can see why they would feel the use of 'social media arms' like robotic Twitter accounts and Facebook anti-fan pages like this: NOT A FAN of Shaun Stenning and this: Say No to Shaun Stenning would be their natural tool of choice. Welcome to the online world, baby.
Just how damaged is Shaun Stenning's reputation?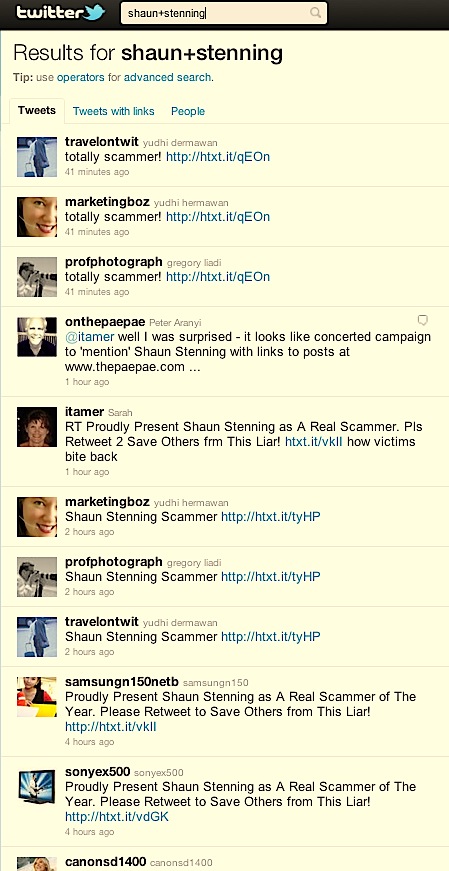 It seems likely to me Google & Bing will catalogue and track the 'Shaun Stenning' persona around the web for a who-knows-how-long — well for a while, anyway.
And in response, it looks like he's taking Eric Schmidt's advice: see Google CEO Eric Schmidt Advises You Change Your Name To Escape Online Shame. Sure enough, Shaun Stenning = Johan Stenning … well, that's he's calling himself on Facebook now, apparently.
How will that work out for him? Dunno.
But seriously, it can't be good to feel a need to do that. It's like packing up the wagon train, I guess. All the legal disclaimers and 'non-disparagement' clauses in his 'customer agreements' and 'refund agreements' (ppft!) can't really protect Shaun Stenning from an uprising of chickens coming home to roost: angry, dissatisfied people who (apparently) feel cheated. Reading the comments about him is sobering and sad.
No amount of dishonest defence of reputation can save someone from their just desserts, it seems to me. Quite right, too.
I've mentioned earlier legendary NZ appliance retailer Alan Martin's slogan:
'"It is the putting right that counts, and if it's not put right ask for me."
So far, in Shaun Stenning's case, despite the appearance of a 'refund program' (bleurgh!) there doesn't seem to have been a lot of 'putting right' (or actual refunds? Am I wrong?) for the customers — therefore and hence: the angry Twitter and Facebook campaigns focussed on him, I guess.
Which reminds me of one of the best lines in Stephen Covey's 7 Habits of Highly Effective People:
I'm not going to let you talk your way out of something you behaved your way into.
– P