In an interview broadcast on state broadcaster (well, for now) TVNZ's Q&A current affairs programme this morning, John Key characterised New Zealanders who've expressed dissent about his GCSB Bill, and specifically the thousands of us who took part in protest rallies throughout the country yesterday, as "either politically aligned or misinformed".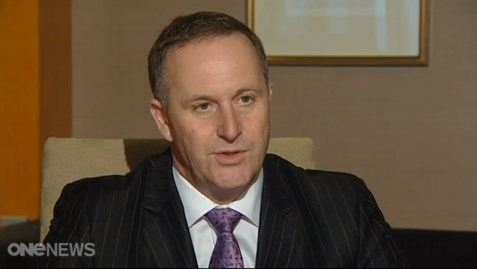 Listen to this 20 second audio clip from his interview with Jessica Mutch:

Watch the full interview at the excellent TVNZ on demand website: PM prepared to compromise with NZ First on GCSB Bill.
It starts out as a very good, strong, clear interview when Mr Key discusses the South Korean free trade talks (he's brilliant at explaining that stuff in my opinion. World-class) … but disintegrates when the politicking about his GCSB Bill starts.
Sadly, one has come to expect shallow dismissals like that ('politically aligned or misinformed') from the prime minister, especially under pressure.
Consider Mr Key's own track record and the changing narrative of his involvement in the appointment of his school friend Ian Fletcher as head of the GCSB (just as an example, see: Tripping over the paper trail. Spokesman says Mr Key advised cabinet about Fletcher link 'orally'.)
Also, I think Mr Key's glib deflection insults the integrity of New Zealanders, like me, who feel deep and sincere — and informed — unease about how he, personally, has 'handled' the state security apparatus … and his proposed law change, the GCSB Bill.
But let me say this as clearly as I can: 'Politically aligned or misinformed'? Actually Mr Key, no, I'm neither of those.
Expressing my misgivings and concerns as a citizen about some of the Government of the Day's policies and actions doesn't automatically make me (a) ignorant or (b) a supporter of the National Party's political rivals.
Not just 'No', Mr Key. 'Hell no!' (With apologies to Harper Lee.)
John Key plays the man, not the ball. Again
Mr Key seems quick to disparage Rodney Harrison QC by name. That is the prime minister's MO, as I have observed before. He does that. It's one of the traits people point to when seeking to compare John Key with Sir Robert Muldoon. Another example: John Key threatens Human Rights Commission funding.
Anyway, have a look at this interview from TV3's The Nation recorded yesterday featuring the very same Rodney Harrison QC, and Tech Liberty's Thomas Beagle:
Do those two critics sound 'misinformed'? No? They don't?
Well then, by Mr Key's characterisation, they must be 'politically aligned' — along with those notorious left-leaning Marxist-Socialist-Leninist wreckers I mentioned yesterday, The NZ Law Society (whose submission on the GCSB Bill was presented by … Rodney Harrison QC – quelle horreur!) … as well as The Human Rights Commission, The Privacy Commissioner, New Zealander of the Year Dame Anne Salmond, Internet NZ, The Human Rights Foundation …
And Thomas Beagle's rhetorical question to the divine Rachel Smalley 'Are you a threat? You're probably not. Then why do they want to spy on you?' (about 5'10") has been given breathtaking new sharpness with the revelation today (see below) that the NZ Defence Force asked US intelligence to spy on Kiwi journalist Jon Stephenson's communications in Afghanistan.
by Nicky Hager

The New Zealand military received help from US spy agencies to monitor the phone calls of Kiwi journalist Jon Stephenson and his associates while he was in Afghanistan reporting on the war.

Stephenson has described the revelation as a serious violation of his privacy, and the intrusion into New Zealand media freedom has been slammed as an abuse of human rights.

The spying came at a time when the New Zealand Defence Force was unhappy at Stephenson's reporting of its handling of Afghan prisoners and was trying to find out who was giving him confidential information.

The monitoring occurred in the second half of last year when Stephenson was working as Kabul correspondent for the US McClatchy news service and for various New Zealand news organisations.

The Sunday Star-Times has learned that New Zealand Defence Force personnel had copies of intercepted phone "metadata" for Stephenson, the type of intelligence publicised by US intelligence whistleblower Edward Snowden. The intelligence reports showed who Stephenson had phoned and then who those people had phoned, creating what the sources called a "tree" of the journalist's associates.

New Zealand SAS troops in Kabul had access to the reports and were using them in active investigations into Stephenson. …

… A leaked New Zealand Defence Force security manual reveals it sees three main "subversion" threats it needs to protect itself against: foreign intelligence services, organisations with extreme ideologies and "certain investigative journalists".

… The manual, which was issued as an order by the Chief of Defence Force, places journalists among the hostile individuals. It defines "The Threat" as espionage, sabotage, subversion and terrorism, and includes investigative journalists under the heading "subversion".
Read the full mind-blowing article at stuff.co.nz
These are extraordinary and troubling developments.
– P
http://www.thepaepae.com/wp-uploads/2013/07/John-Key-GCSB-dissent-is-political-or-misinformed.mp3 197486 audio/mpeg