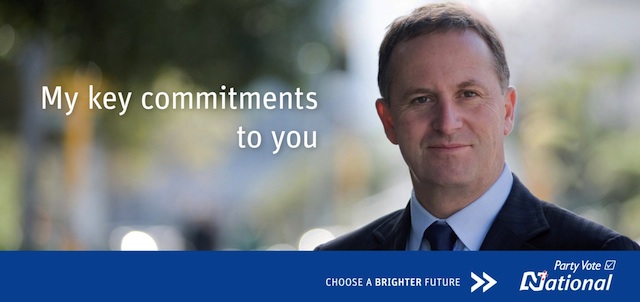 All over the world right wing politicians are justifying encroachments on their citizens' civil liberties with references to the 9-11 terrorist attack or the spectre of a similar outrage.
In the US, Republican presidential-possible Governor Chris Christie has just had a crack at it, whacking 'libertarian' concerns about privacy and civil liberties as 'esoteric' or 'intellectual debate' … See: Christie Cites 9/11 in Assailing Libertarian Trend in G.O.P. New York Times 26/7/13.
"The next attack that comes, that kills thousands of Americans as a result, people are going to be looking back on the people having this intellectual debate and wondering whether they put. …" said Mr. Christie, before cutting himself off.
The New Zealand prime minister John Key, justifying his proposed expansion of powers for the country's (supposedly) outward-looking, 'international' spy agency, the Government Communications Security Bureau (GCSB) to allow it, by law, to carry out surveillance of Kiwis, uses a similar argument, invoking 'terrorist threat'.
Don't believe me? Listen to this, from last night's Radio NZ Focus on Politics:
See? Same approach.
Chairing the Intelligence and Security committee which received submissions against his GCSB bill, John Key took a similar 'How would you feel if people got killed because of a lack of surveillance'-type line of questioning with one of the submitters, Tech Liberty's Thomas Beagle. Mr Key's 'hypothetical', 'What if there was a bomb at the airport and people got killed?' is only a little short of 'What would you say to the victim's children?'
It's sometimes easy to forget just how wet behind the ears John Key is when it come to issues of dissent and civil liberties. (This is the man who says he 'can't even remember' what position he took on the the 1981 Sprinbok Tour protests which so divided the country.)
As we've already noted, when John Key dismisses legitimate criticism of his planned expansion of New Zealand's spy laws as 'throwing stones from the side-lines' he is trivialising and dismissing the thoughtful, considered, courageously-expressed alarm of:
The NZ Law Society
The Human Rights Commission
The Privacy Commissioner
New Zealander of the Year Dame Anne Salmond
Internet NZ
The Human Rights Foundation
… and many others.
Read the full list and their submissions on the Bill here at parliament.nz (PDF 10MB)
That Focus on Politics episode I excerpted above is worth listening to (as always!)  for the various politicians explaining their various positions* … but also an extended interview with Privacy Commissioner Marie Shroff (starts about 8'40") Listen here: radionz.co.nz.
For Mr Key (or anyone!) to denigrate Ms Shroff's office and others' well-thought-out, well-expressed concerns about his proposed legislation seems ludicrous.
Also, the NZ Herald hired cameraman Bradley Ambrose to produce a video of Thursday night's public meeting against John Key's GCSB Bill. It's a very good 'highlights package' (approx. 8 mins) of the evening in which the participants explain the very serious concerns sensible, 'establishment' people (i.e. not just left-wing nutters) have  raised about John Key's proposed GCSB legislation.
Take a look at nzherald.co.nz
– P
* subtle Leonard Cohen reference.
http://www.thepaepae.com/wp-uploads/2013/07/gcsb-john-key-cites-terrorist-threat.mp3 256784 audio/mpeg, http://www.thepaepae.com/wp-uploads/2013/07/john-key-re-springbok-tour.mp3 395640 audio/mpeg