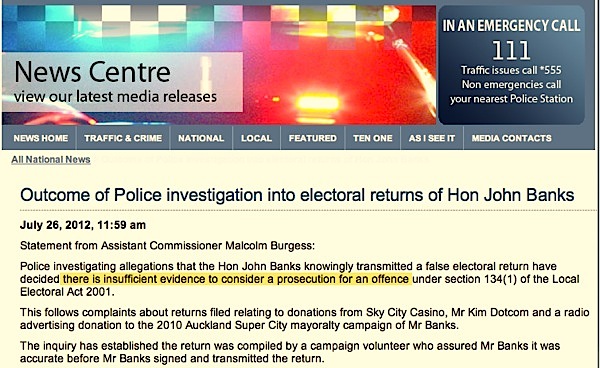 'Insufficient evidence'
From one Banksy to another —
Police have decided they won't prosecute ACT Party leader and sole MP John Banks for [alleged] electoral law offences relating to him improperly declaring tens of thousands of dollars of campaign donations as 'anonymous' when he'd personally solicited those very donations … because they can't prove he knowingly filed a false return of electoral expenses (which includes a declaration of donations).
Here is the phrase the police used (three times!) to describe their reasoning, as outlined to complainant, Labour MP Trevor Mallard…
Police were unable to establish that MR BANKS had the necessary knowledge that the donation had been recorded as anonymous in the return before he signed it and submitted it. The return was compiled by a campaign volunteer. Mr Banks sought and received confirmation that it was an accurate return of his expenses before signing and transmitting the return. Police are therefore of the view that there is insufficient evidence to consider a prosecution in respect of section 134(1).
It's worth reading the police letter to Trevor Mallard (.pdf) in full.
Of course, one-eyed John Banks supporters will exalt in this escape from prosecution, one of them already describing the outcome as 'no case to answer', and the prime minister apparently saying police had 'cleared' Mr Banks.
I think that's wishful thinking and the situation is somewhat better described thus, by Law Professor Andrew Geddis in his article at pundit.co.nz: John Banks – not unlawful, just incompetent'
… let's just note what we're left with at the end of the Police's investigation. We know John Banks went around wealthy people and companies getting donations in the five figures. The Police clearly are of the opinion he did so in full knowledge they were giving him this significant support. But he then signed a document purporting to accurately declare who had given him the money for his campaign apparently without even reading it, but simply after asking the volunteer who put it together "you're sure this is accurate?"

OK. This story gets him off the hook legally. But, you know … this guy presently is a Minister of the Crown, holding responsibility for Regulatory Reform and Small Business, as well as being the Associate Minister of Commerce and Associate Minister of Education.

And he doesn't even read the things that get put in front of him.
Or this by lawyer Graeme Edgeler at publicaddress.net Johndotbanks – the law is over, let the politics commence
I'd overlooked the 6 month time limit on bringing prosecutions for unwittingly filing a false return (which it's pretty clear the Police think Banks did). But once Banks found someone to take the blame for misstating the nature of the donations he received (i.e. by describing them as "anonymous", rather than listing their actual source), then he could credibly claim that the false return wasn't a result of a "knowing" misrepresentation. Which gets him off the hook for the more serious offence for which he could still be prosecuted, and had he been convicted of would have resulted in his having to leave Parliament.

The reason that police decided that they could not properly charge Mr Banks is that, in effect, they did not believe they could prove he had read the return before he signed it, his having simply sought assurance by a campaign worker that it was correct.
Neither of which is a rousing endorsement from these legal experts, huh? "Off the hook"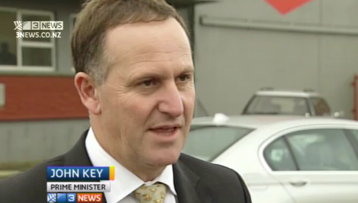 I saw Prime Minister John Key's soundbite-ish statement last night on 3News (Banks 'off on a technicality' – Shearer), amounting to:
The test is whether someone meets the law, uhhm, that they act ethically when they have a [ministerial] warrant. In Mr Banks's case he's done both of those.
John Banks, unless I'm wrong, didn't hold a warrant when he filed the electoral expenses return for his failed 2010 mayoral campaign, so, Mr Key's statement as reported (I'm sure he would have said more) seems oddly in keeping with David Shearer's 'off on a technicality' narrative.
Veteran political journo John Armstrong puts it this way in his article 'Toothless law Act leader's saviour':
It is crystal clear from the report that – as Labour's David Shearer put it – Banks sought the money. Banks received the money. Banks then forgot he received the money. But from that point the police could not find sufficient evidence that Banks knowingly filed a false return. The law is the law. The police were stymied.
It is worth stressing that Banks has not been vindicated, however.
Perhaps Mr Key should be asked: If that's the test, prime minister, two words: Richard Worth.
What's the difference? How does this Banks donation episode demonstrate a 'higher standard'?
– P