Wow. I heard and saw some response from NZ government figures to the joint Labour/Green announcement of policy concerned with electricity market reform. Ministers Steven Joyce and Simon Bridges apparently couldn't wait to slam the policy vociferously, taking the opportunity of 'stand-ups' in Parliament's hallways to foam at the mouth issue a comment.
Having paid no attention to the policy announcement myself before I saw their responses, I was struck by their vehemence. They both looked rattled.
But today, I was even more surprised to read the hysterical attack politics contained in Mr Joyce's overwrought ministerial media release, issued through beehive.govt.nz.
Read it (full text below) and ask yourself: Who is it that has really 'lost the plot' (emphasis added):
Opposition loses the plot on economy

Labour and the Greens have jumped the shark with a half-baked Soviet Union-style nationalisation "plan" for electricity in New Zealand, Economic Development Minister Steven Joyce says.

"This is truly wacky and desperate stuff obviously made up in the last minute in the Koru Lounge between comrades Norman and Shearer," Mr Joyce says.

"Their crazy idea to have both a single national purchaser of electricity and to exempt Government-owned companies from both company tax and dividends would effectively demolish private investment in the electricity industry overnight. It would also raise real questions as to why any individual or company would want to invest in businesses in New Zealand.

"Even the idea of it is economic vandalism of the highest order, with the timing designed to try and disrupt the mixed-ownership company floats. What we are seeing here is a desperate Opposition that is prepared to sacrifice economic development in New Zealand on the altar of political opportunism.

"The sad truth is that Labour has no idea how to operate a competitive market that keeps downward pressure on prices. Labour made a number of reforms to the electricity market in the early 2000s and the result was power prices rising 72 per cent over nine years.

"This Government's reforms have halved price increases while maintaining investment in generation and transmission. Labour's suggestion today is no more than a belated apology for their mismanagement, with a back-to-the-70s solution that would only make things worse.

"You seriously have to question the quality of economic advice the Labour Party is getting. They really need to get a lot more serious if they are ever to be considered fit to manage the New Zealand economy."
That's some serious spin, Mr Joyce — but there might just be a little too much helium in that balloon. Perhaps Mr Joyce is a frustrated blogger? Or simply spending too much time in the echo chamber?
For reference, here is Mr Joyce's official biography, detailing his own economic policy experience and other expertise: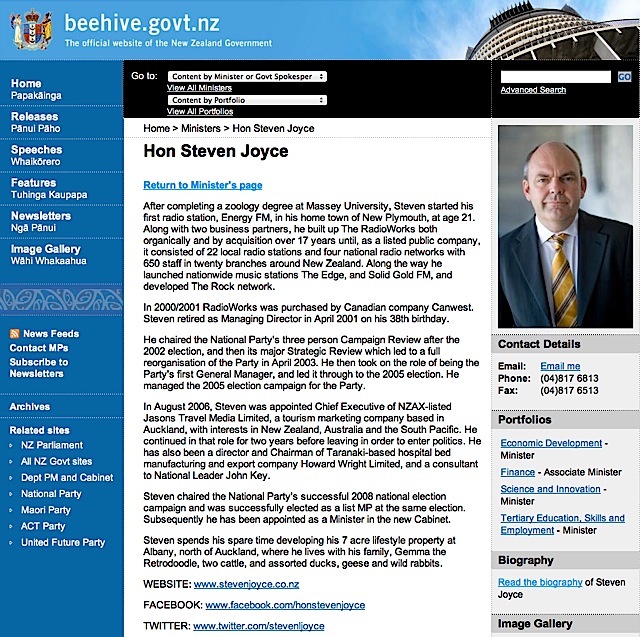 After completing a zoology degree at Massey University, Steven started his first radio station, Energy FM, in his home town of New Plymouth, at age 21. Along with two business partners, he built up The RadioWorks both organically and by acquisition over 17 years until, as a listed public company, it consisted of 22 local radio stations and four national radio networks with 650 staff in twenty branches around New Zealand. Along the way he launched nationwide music stations The Edge, and Solid Gold FM, and developed The Rock network.

In 2000/2001 RadioWorks was purchased by Canadian company Canwest. Steven retired as Managing Director in April 2001 on his 38th birthday.

He chaired the National Party's three person Campaign Review after the 2002 election, and then its major Strategic Review which led to a full reorganisation of the Party in April 2003. He then took on the role of being the Party's first General Manager, and led it through to the 2005 election. He managed the 2005 election campaign for the Party.

In August 2006, Steven was appointed Chief Executive of NZAX-listed Jasons Travel Media Limited, a tourism marketing company based in Auckland, with interests in New Zealand, Australia and the South Pacific. He continued in that role for two years before leaving in order to enter politics. He has also been a director and Chairman of Taranaki-based hospital bed manufacturing and export company Howard Wright Limited, and a consultant to National Leader John Key.

Steven chaired the National Party's successful 2008 national election campaign and was successfully elected as a list MP at the same election. Subsequently he has been appointed as a Minister in the new Cabinet.

Steven spends his spare time developing his 7 acre lifestyle property at Albany, north of Auckland, where he lives with his family, Gemma the Retrodoodle, two cattle, and assorted ducks, geese and wild rabbits.
Good to see he has a sense of humour.
– P