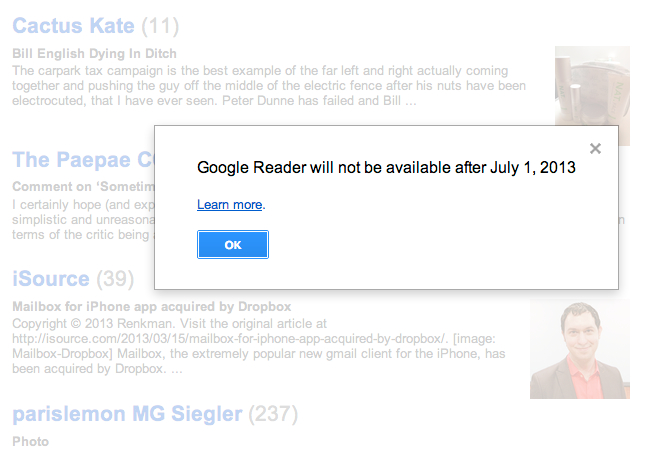 Yeah, like a lot of people I use the Google Reader API to sync my RSS — but only because they monstered everyone else out of the "market" * and many of the standalone RSS reader apps (especially iOS based readers, but also Vienna and NetNewsWire) switched to use Google Reader to sync feeds, subscriptions and read states.
Then this happens …
It's Not Just Reader – Google Kills Its RSS Subscription Browser Extension, Too

Sarah Perez | TechCrunch
Oh Google. Thought we wouldn't notice that you're trying to kill off not just Google Reader, but also your support and endorsement for the RSS format itself? People have just started noticing that Google's own RSS Subscription Chrome browser extension has disappeared from the Google Chrome Web Store. Though it's unclear at this time exactly when the extension was removed, the change appears to be recent. …
Read the rest of Sarah Perez's article which quotes a powerful analogy from The Guardian's Rupert Goodwins: Killing Google Reader is like killing the bees: we'll all be worse off.
There are other services that aggregate RSS, but many of them rely on Google Reader. Many others have been driven out of business by Reader's dominance, including most that synchronise across several devices – precisely the way that busy information VIPs work. These people are the apex pollinators of the web, the first responders and the most influential creators of quality across an internet that so desperately needs it. They find Reader mindful where Twitter is mindless; Reader organises and prioitises, it keeps information in sight, not rushes it away.

Such people will find other ways to get their data – less easily, less reliably and less well integrated with how they work – but for now, they are angry and uncertain. "I feel betrayed," the radio programme maker said. "I used to recommend Google to everyone, but now I can't trust it. It's all very well putting all the books in the world online, but what's the point if you then shaft the readers?"
Google is creepy.
Roll on the alternatives.
-P
* read Marco Arment on this:
It may suck in the interim before great alternatives mature and become widely supported, but in the long run, trust me: this is excellent news.
And then there's this: Breaking: Google Has Begun Purging Ad-Blocking Apps From The Play Store by David Ruddock Android Police
Sooo 'open'.