First off, let me say this is NO Big Deal. But I find it mildly interesting and, since that reaches the threshold for blogging …
Only an idiot would expect consistency from Cameron Slater
In April, prompted by Cameron's industrial-strength lunatic conspiracy theory that Twitter mention maps revealed undeclared 'bias' when journalists communicate with other people on Twitter (gasp!), I used his own ridiculous methodology to show how we (he and I) were 'linked' by a Twitter mention map:
Cameron, you say: "These people purport to be ethical and fair and balanced journalists when the evidence is pretty clear that they are not."

What evidence? A MentionMapp? Are you serious? You're advancing THAT as 'evidence'?

Observe the disclaimer: "You are looking at a map of MENTIONS. Each user is connected to the people and hashtags they mentioned in the MOST RECENT TWEETS."

Hardly 'evidence' with which to question ethics and fairness even by the most fevered conspiracy theorist.

And you haven't given us the benefit of your own MentionMapp. Here it is:
http://j.mp/CameronMentionMapp

Oh.My.God. You're linked to the Harlem Shake! You menace!

– P
We engaged in a little conversation — fairly hostile on his part — in the Whale Oil blog comment stream (not a habit of mine, I assure you) … and on the way to 'confessing' (cough) that he had been lying to my face when he'd previously boasted to me about his use of fake Facebook and Twitter profiles to stalk politicians,* he flung this wee arrow my way, accusing me of 'link-whoring' (ugh) …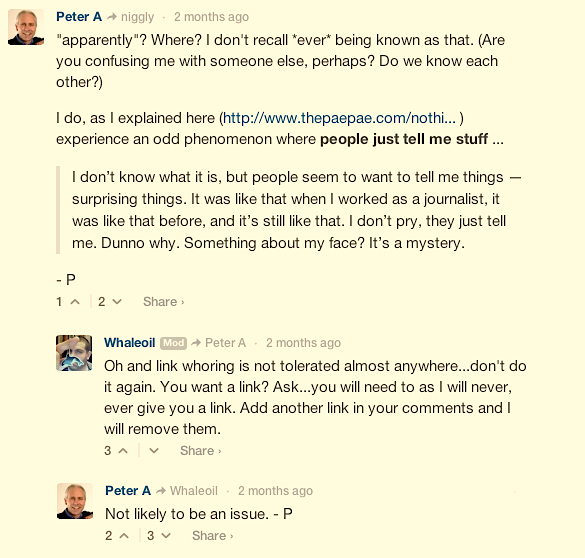 Oh dear. Well, if such linking to oneself is "not tolerated almost anywhere" (Is that actually the case?) — mmbokay. As I said at the time, this is not likely to be an issue.
So imagine my minor amusement today when I followed a link from the NBR's story about Dick Quax accusing Auckland Council's Chief Planning Officer Roger Blakeley of penning a 'political' opinion piece (see: Quax blasts Auckland planning boss's 'political' blog (PAID) … and read the (not really political IMO) article in question (see Advantages of a more compact Auckland)  … then saw this in the comment stream:

Haha. Could that be Cameron Slater 'link-whoring'? D'ya think?
As I said, only a idiot would expect consistency from a self-described liar. I apply that to anything he has to say.
– P
* You can decide for yourself which version of Cameron Slater's account you believe. Lying then, or lying now?
Related: