Cameron Slater, of course, will be delighting in any consternation and outrage (read: attention) his agitprop provokes. Mission accomplished.
As I have noted before, blogger Cameron Slater has 'truthfulness and accuracy' issues in my view. (Balance, obviously, one has learned not to expect from a partisan attack poodle like him.)
Here's TV3 Political editor Duncan Garner's response to what he clearly sees as Cameron Slater's disinformation about the source of video footage of a 2008 John Key speech screened on 3News last night (see: Labour: Key promised no job cuts, asset sales in 2008 speech – Video – 3News)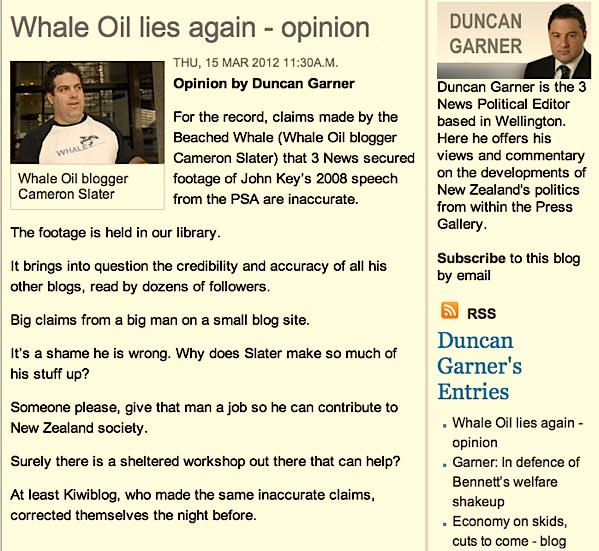 As I said, any such criticism is rich ego food for the needy attention-seeker. Nevertheless, let me say this:
As a mouthpiece (Paid? Voluntary? It doesn't matter) for the ratepayer-owned Auckland port company — which dubiously leaked details of an employee's personnel records in an effort to discredit a critic — Cameron has again mashed together his customary nasty, hyperbolic political tribalism ('union thugs', 'liars', etc) and polished the resultant turd by hosting/approving (or authoring?) some truly awful bigoted and racist bile in his blog's trenchant comment stream. [e.g. 'dumb coons', 'porch monkey'.]
It's only going to get worse, I suspect. The well-groomed chairman of the Port company Richard Pearson must have, I guess, approved his PR 'strategists' weaponising of Port of Auckland personnel information.
Feeding material to football hooligans partisan bloggers like Cameron Slater, or the business class model Cathy Odgers, may bring a short term PR payoff. But Mr Pearson could perhaps consider the old saying, 'Lie down with dogs, get up with fleas'.
Or maybe Richard Pearson (who batted away Auckland mayor Len Brown's offer of mediation as "too late") should run for mayor himself?
Maybe he already is.
– P