A quick follow-up. Earlier, I had wondered aloud whether New Zealand's most defamed man, part-time propagandist and bad boyfriend Jordan Williams would still be 'good to go' as a lawyer, by New Zealand Law Society standards. I noted his practising certificate was due to expire on June 30.
And it seems it's been renewed (right). This despite Judge Sarah Katz's blistering assessments of Williams's actions: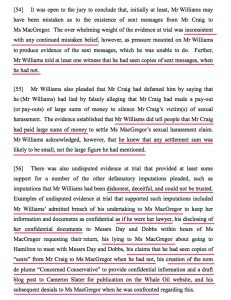 …among other things, repeatedly breaking confidentiality undertakings he made to a woman with whom he was 'romantically involved' (and to her lawyer); launching a campaign to remove a political party leader using untrue statements, leaks, and providing ghostwritten material to a notorious PR attack blog; issuing untrue denials of his actions, etc. (See my earlier post 'About that Jordan Williams damages award…' for a summary.)
A friend told me the process of renewing a Lawyer's Practising Certificate is pretty much a rubber-stamp thing, rather than involving assessments of 'fit and proper' person. Yeah, I thought it was pretty automatic. But I had wondered if Judge Katz's let's face it, pretty adverse findings might have had an impact.
The Law Society is, naturally, fairly protective of the income-producing capacity of its members — somewhat like a real trade union, in contrast to the transparent astroturf group dubbed 'Taxpayers Union' which Williams fronts for god-knows-which special interest groups.
Sugar-laden food and beverage manufacturers are on the roster, I suspect, given some of the positions the TPU propaganda team seems to have adopted in recent months. (Somewhat Carrick Graham-esque issues? But that's just a fat-free theory.)
Anyway, that's happened. Jordan Williams is still a lawyer.
– P