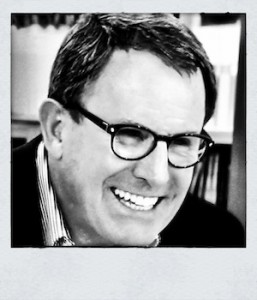 Experience counts.
I appeared to briefly flabbergast John Banks on Friday when I asked him for a lift from the radio station to the venue for the now infamous 'cup of tea'.
Cheeky? You might say that, but it made sense: He'd just, at 2:00 pm, finished a session (along with 'official' National Party Epsom candidate Paul Goldsmith) as a guest on Willy & JT's always excellent RadioLIVE political hour … and he was obviously heading to the café for his 'catch-up' with John Key (date with destiny?) at 2:30. So I asked for a lift.
Anyway, I know Banks from my time in the press gallery and have interviewed him in the lead up to this election:
"Mr Hay is an enthusiastic apparatchik of the ACT party, and that's fair enough … but there's been no deal" — John Banks
… was a memorable soundbite from our interview about the controversy sparked when the ACT Party New Plymouth electorate chairman tackled John Key on the campaign trail demanding he pull Goldsmith out of the race for Epsom as quid pro quo for ACT not standing a candidate in the race for the marginal New Plymouth seat.
Banks is, whatever else anyone may say about him, an effective communicator. He is relentlessly 'on message'.
As he (very kindly) drove me to Newmarket on Friday, we talked about some of the lessons experience teaches — to both politicians and journalists.
Our conversation, rightly, remains off the record, but I'm sure he won't mind me sharing this maxim he quoted, saying his mentor Rob Muldoon used to impress it upon the National Party caucus:
On message
At volume
Over time
— Sir Robert Muldoon's secret of effective political communication
That's what John Banks does.
Then, this morning on my way into town, I saw this near Gillies Avenue: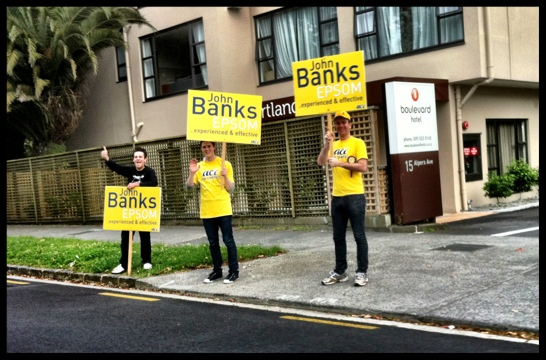 Banks' campaign is doing the basics well. Does he deserve to win? That's not a question for me to answer, but he's putting the work in.
– P