I don't mind saying, sometimes one comes across writing that says EXACTLY what you were thinking — or formulating — and says it so well you shiver in recognition.
Douglas Rushkoff, on guardian.co.uk nails it on the unease about Huffington Post/AOL deal.
… here we have a new media company  fooling an old media company  into overpaying for something that has already peaked. … it seems as if the second great age of internet media, the fabled "Web 2.0", is now going the way of Web 1.0 – that is, boom, sell, and bust.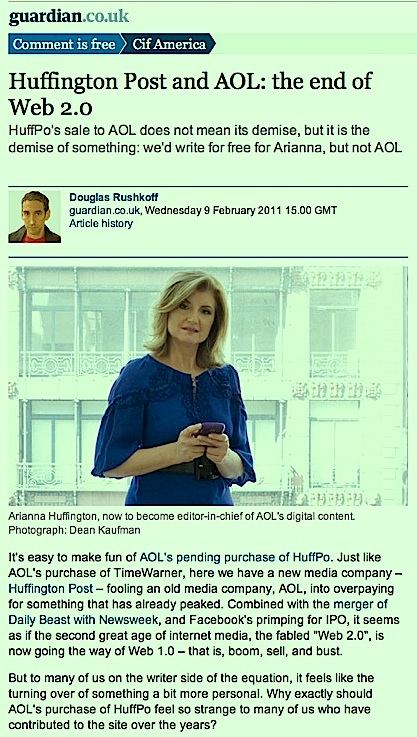 And even better …
It's because we write for HuffPo for free, and – because it's Arianna – we do it without resentment. There's value being extracted from our labour, for sure, by advertisers or whoever, but the sense was always that we were writing for Arianna – contributing to an empire that spent its winnings bussing people to watch Jon Stewart and Stephen Colbert do their thing in Washington. Yes, there are compensating benefits – like getting links or hits or book sales – but it was a very soft quid pro quo based in a sense of shared purpose, and participation in a community beyond the mega-media-corporate sphere of influence.
Read his short but thoughtful article here.
Another media blogger, Forbes's Jeff Bercovici, makes the point that some key people behind Huffington Post's spectacular (and only recent) move from red to black AREN'T part of the deal. They're moving on to greener pastures?
Huffpo Isn't Huffpo Without the People. Does AOL Know That?

… After all, a golden goose isn't worth much if it stops laying eggs. And several of the business minds most responsible for navigating Huffpo from the red into the black (an estimated $10 million in profit this year, with $30 million projected in 2012) aren't part of the package. CEO Eric Hippeau is heading off to join co-founder Ken Lerer in looking for new opportunities elsewhere, as Lerer told my colleague Maureen Farrell. Chief revenue officer Greg Coleman is also departing. Analyst Shahid Khan says Coleman deserves a lot of the credit for monetizing Huffpo's traffic, something it had had limited success at before his arrival in September 2009. "He has done a very good job," says Khan. "AOL needs somebody like that across all of their properties."

Of course, AOL will have Arianna Huffington, who will become editor in chief across all of its media properties and even oversee some stuff, including MapQuest and AOL Search, that's not exactly media. That was enough to win over Needham & Co. analysts Laura Martin and Dan Medina, who, in a report to investors, included "People" on a list of reasons the merger is "terrific news." "Arianna was one of the first executives to build online content sites and has been an innovator at using social media to create HuffPo's upscale audiences," the analysts wrote. "She didn't make enough money to retire and we think having this accomplished entrepreneur in the AOL family adds energy, vision and innovation around content going forward."

But Huffington's role in her own business is widely misunderstood outside the company. (Side note: Since when is $20 million not enough to retire on?) Those who understand Huffpo's operations best say what Huffington brings to the table — her editorial voice and vision, her peerless Rolodex, her visibility — while important, is collectively less important than the technology behind the site. If you want to understand Huffpo's rocket-like growth, you have to look at things like its aggressive search engine optimization, its cutting-edge social integration and its highly efficient, ever-evolving publishing platform, which helps editors whip out stories at breakneck pace and supplies them with the feedback to maximize their traffic in real time.