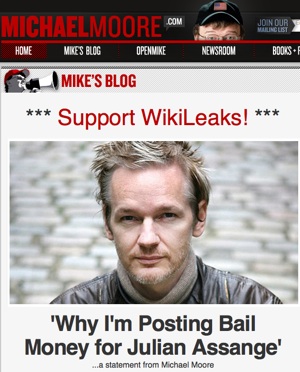 December 14th, 2010 2:58 AM
WITNESS STATEMENT OF MICHAEL MOORE
WITNESS STATEMENT
(CJ Act 1967, s.9 MC Act 1980, ss.5A(3)(a) and 5B;
Criminal Procedure Rules 2010, Rule 27)
____________________________________________________________
STATEMENT OF MICHAEL MOORE
Aged: Over 18
Occupation: FILM MAKER AND AUTHOR
____________________________________________________________
This statement (consisting of 2 pages each signed by me) is true to the best of my knowledge and belief and I make it knowing that, if it is tendered in evidence, I shall be liable to prosecution if I have wilfully stated anything which I know to be false or do not believe to be true.
I, MICHAEL MOORE, care of Finers Stephens Innocent, 179 Great Portland Street, London, W1W 5LS make this statement and say as follows:
1. I am a filmmaker, author and political commentator and I produce as my exhibit [MM/1] evidence of my identity in the form of a photocopy of my passport/driving licence. I am an American citizen.
2. I am aware of the various allegations Julian Assange faces in Sweden. I am willing to act as security for Julian in the sum of twenty thousand dollars USD$20,000.
3. I am the director and producer of Bowling for Columbine, Fahrenheit 9/11, Sicko, and Capitalism: A Love Story, four of the top nine highest-grossing documentaries of all time. In September 2008, I released my first free movie on the Internet, Slacker Uprising, documenting my personal crusade to encourage more Americans to vote in presidential elections. These experiences underpinned my conviction that it is the duty of a free press to probe, and hold government and the powerful to account – and that citizens must be properly informed and have access to information in order to exercise their democratic rights.
4. Governments have always been discomfited by a probing press. With the hollowing out of newsrooms, in large part as a consequence of the new digital world, old media have largely abandoned the territory of investigative journalism.
5. I support Julian, whom I see as a pioneer of free speech, transparent government and the digital revolution in journalism. His commitment to exposing the follies of government and business offers the greater society a chance to protect itself from these follies. Some aren't just follies. Some are crimes. What do we do with someone who informs the authorities — and in this case it is the free people in a democracy who are the "authorities" — that a crime has been committed? Do we arrest HIM? Do we try to shut his mouth? Do we hound him, threaten him, track him down and hunt him as if HE is the criminal? He bravely informed the citizenry of what was being done in their name and with their tax monies. That is no crime. That is an act of patriotism. He should be thanked and honored, not abused and jailed. It dishonours this court to be used in this way, holding this man without bail. Julian has made the world, and my country in particular, a safer place. His actions with WikiLeaks have put on notice those who would take us to war based on lies that any future attempts to do so will be met by the fierce bright light provided by WikiLeaks and intended to expose those who commit their war crimes. His actions will make them think twice next time — and for that we all owe him a debt of gratitude.
6. I believe that Julian takes pride in his reputation and as any journalist would understands that if he were to abscond he would ruin his reputation in the media and journalism industries.
Read the rest of it here at michaelmoore.com
And Why I'm Posting Bail Money for Julian Assange By Michael Moore