Following up on the medical leave Steve Jobs took from Apple in January, this, today, while of course not unpredicted, is still a bit of a psychic bang.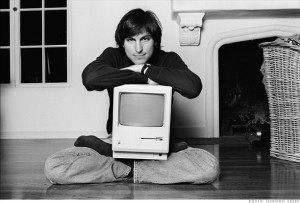 August 24, 2011

Letter from Steve Jobs
To the Apple Board of Directors and the Apple Community:

I have always said if there ever came a day when I could no longer meet my duties and expectations as Apple's CEO, I would be the first to let you know. Unfortunately, that day has come.

I hereby resign as CEO of Apple. I would like to serve, if the Board sees fit, as Chairman of the Board, director and Apple employee.

As far as my successor goes, I strongly recommend that we execute our succession plan and name Tim Cook as CEO of Apple.

I believe Apple's brightest and most innovative days are ahead of it. And I look forward to watching and contributing to its success in a new role.

I have made some of the best friends of my life at Apple, and I thank you all for the many years of being able to work alongside you.

Steve
Unavoidable but sad. Read John Gruber's erudite thoughts.
How do you replace the irreplaceable man? Like we're seeing. An open-ended medical leave, where he retains the CEO title. A continuation of strong new products, including a major improvement to the iPad, the device that is upending the entire computer industry. The ceding of day-to-day operations and leadership to Tim Cook, his right-hand man and chosen successor. Ever-higher profiles during public product announcements of top product-focused lieutenants like Phil Schiller, Scott Forstall, and Eddy Cue. It wasn't something you could see or hear, but from the audience during this year's WWDC keynote, it was something you could feel. Midway through, I wrote:

He's here, but this is the first post-Steve keynote.
Yeah. Bugger.
As I've said before: Steve Jobs is the Thomas Edison of our age.
– P
Jeff Jarvis: "Let us write no early eulogies. The man's genius lives"