John Key's line:
As I had reason to tell someone in a completely different context recently …

No doubt Mr Key's line, "Look, members of the news media, despite what those NSA/GCSB documents say, you're completely wrong — but it's not my job to tell you how you are" approach will work for some people, — like National Party/SkyCity cheerleader Mike Hosking, and this group, which Alastair Thompson described as the "cult of Key", in particular:
Personally, reading the articles Nicky Hager, Ryan Gallagher and David Fisher have been publishing over the last day or so, I think it's requisite on the political leader of our country (and minister in charge of the state spy agencies, hand-off to the Attorney General notwithstanding) to offer the electorate something more substantial than a child's bedtime assurance akin to, "Everything is going to be OK, because I say it is".
In my view, Mr Key is exposed as his most intellectually vapid in these matters. He also seems petulant.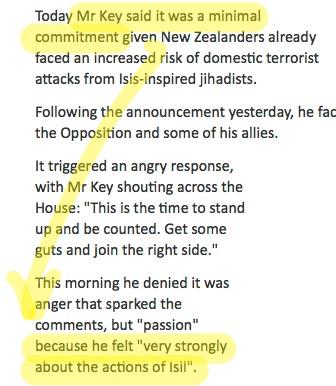 Like his double-minded (right), inconsistent rationale for the imminent NZ Army deployment to Iraq, in 'explaining' his government's international security policy the prime minister seems to suffer from a real authenticity deficit.
The effect of that is to leave us with a slippery, politics-of-convenience moral leadership vacuum. [See also: John Key's changing narrative on al-Qaeda threat in NZ]
It's troubling, because these are important things.
– P
UPDATE: Fairfax NZ's Tracy Watkins considers aspects of Mr Key's handling of these matters in a thoughtful, and perhaps more diplomatic way than my brief comments.
I recommend you read it, if you're interested. See: John Key burning up political capital following Edward Snowden revelations