I've talked before about the presence of Apple computers in the Obama White House (see: Talk about product placement! and iPad penetration) … today I was browsing the White House Flickr photostream (gee is that one word now?) having followed a link to Pete Souza'a excellent action shot from August last year of President Obama shooting clay targets at Camp David …
Anyway, another photo in the stream was Pete Souza's snap of President Obama participating in a December 2013 live Twitter question and answer session.
Now, I know the rules of using White House photos specify the photo 'may not be used in commercial or political materials, advertisements, emails, products, promotions that in any way suggests approval or endorsement of the President, the First Family, or the White House' — and I'm NOT setting out to do that, but I couldn't help notice all the Apple gear being used:
There's also another phone I don't recognise partly obscured by a Presidential Seal/White House coffee cup … anyone recognise it? (Is it another Blackberry?)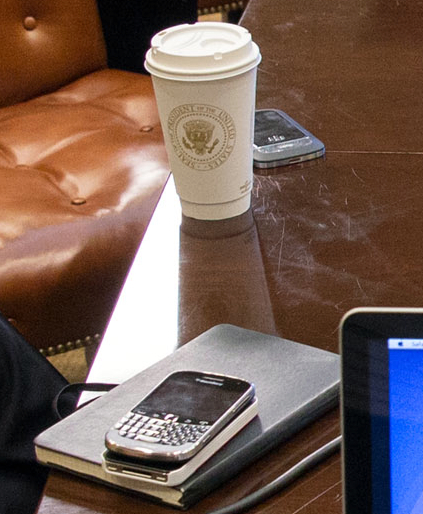 Anyway, I find this stuff interesting. So here it is.
– P
PS I have one of those Logitech ultra thin keyboards for my iPad. It's excellent. Makes me wonder why Microsoft is making such a big fuss of their keyboards for tablets ('click').