Wow, talk about a clobbering machine …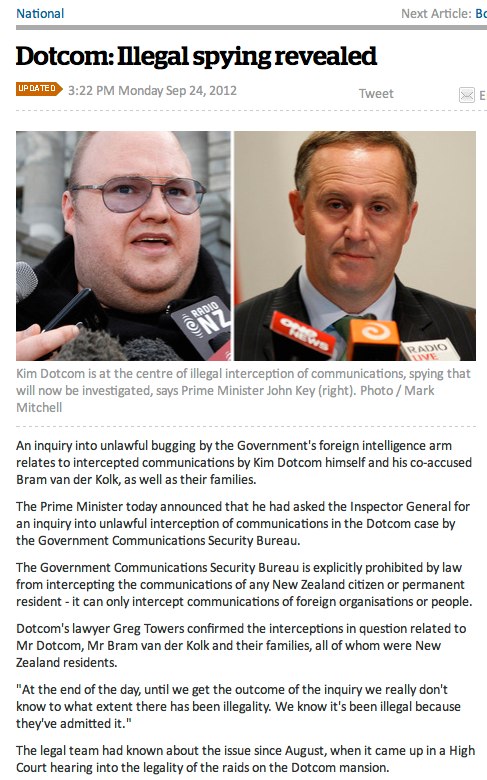 Dotcom: Illegal spying revealed (NZ Herald)
Labour leader David Shearer said the alleged illegal spying amounted to a "shocking breach" of New Zealand law.
He said Mr Key needed to explain a claim he had not heard of Mr Dotcom until the day before a police raid was carried out at his Coatesville mansion.
Mr Key would have been called on to authorise monitoring carried out by the GCSB, Mr Shearer said.
"While it's been revealed that 'some' bugging was done illegally, it is not credible to think that other monitoring by the agency was not signed by the Prime Minister before the raid was carried out.
"This is not about national security. This is about John Key's own word and whether he has told the truth to New Zealanders."

New Zealand First leader Winston Peters said Mr Key had failed in his responsibility to oversee the GCSB and the New Zealand Security Intelligence Service.
His actions showed a "mega disregard" to his role and his actions amounted to "dereliction of duty", Mr Peters said.

"The taxpayers of New Zealand are about to pay a fortune to Mr Dotcom because of the Prime Minister's cavalier disregard for his responsibilities.
"Mr Key appears not to care about the security of New Zealanders, and is instead more concerned with photo opportunities, three-way handshakes at rugby games, and prancing down fashion runways."

Green Party co-leader Russel Norman said the actions of the GCSB should be concerning to all New Zealanders.
"A number of New Zealand agencies, including the police, have bent over backwards to assist the United States in prosecuting Mr Dotcom," said Dr Norman.
I'm not saying what these Opposition leaders are saying is wrong, but their apparent rush to climb all over prime minister John Key and lay it all at his feet resembles kicking a man when he's down. Or is that just politics?
What do you think?
– P
Oh, look:
PM John Key says he can't comment about why it took months for him to be told about illegal interception of Kim Dotcom's communications

— RadioLIVE Newsroom (@LIVENewsDesk) September 24, 2012