Some interesting, contradictory, discussion about the role of social media in news journalism… we'll have to get our heads around the issues with this stuff, by the look of things.
This appeared in my Twitter timeline (ahem, feel free to follow @onthepaepae) this morning:
… having been promptly re-tweeted by a number of journos I follow on Twitter.
In the same batch was a link to this …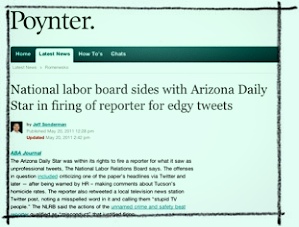 Poynter Center for journalism quoting ABA Journal
National labor board sides with Arizona Daily Star in firing of reporter for edgy tweets

The Arizona Daily Star was within its rights to fire a reporter for what it saw as unprofessional tweets, The National Labor Relations Board says. The offenses in question included criticizing one of the paper's headlines via Twitter and later — after being warned by HR – making comments about Tucson's homicide rates.

The reporter also retweeted a local television news station Twitter post, noting a misspelled word in it and calling them "stupid TV people." The NLRB said the actions of the unnamed crime and safety beat reporter qualified as "misconduct" that justified firing.
Trace that back to the TLNT HR website report which says
The Charging Party worked as a "crime and safety beat" reporter for the Arizona Daily Star from 1999 until September 30, 2010. In 2009, at the Daily Star's encouragement, Charging Party (and other Daily Star employees) opened Twitter accounts. At that time, the Daily Star had no social media policy. …
If you read it you'll see that things went a bit sour after he took a (pretty mild, I think) jab at the sports department:
"The Arizona Daily Star's copy editors are the most witty and creative people in the world. Or at least they think they are."
and later, some tacky comments about a homicide-free night being out of the ordinary for Tuscon Arizona:
"What?!?!? No overnight homicide? WTF? You're slacking Tucson."
Now, gee whizz: These comments themselves seems no worse than the attention-seeking pap a million shock jock types or varsity students would froth about, and gee whizz #2: Whose Twitter account is it?
Things went pear-shaped for Mr "crime and safety beat" reporter when he basically ignored his manager's direction NOT to tweet 'inappropriately' anymore and got this letter …
Your employment with the Arizona Daily Star is terminated effective today, September 30, 2010. We have provided repeated training on our Respectful Workplace Guidelines, a high level of supervision and regular feedback, yet you continue to disregard professional courtesy and conduct expectations.

Despite the multiple warnings, suspension and final verbal notice issued as recently as February 2010, when you were told to refrain from using derogatory comments in any social media forums that may damage the goodwill of the company, you have again disregarded that guidance.

After careful review of last week's inappropriate Twitter posting along with other concerning postings, we have no confidence that you can sustain our expectation of professional courtesy and mutual respect therefore, you give us no alternative but to terminate your employment immediately."
It seems to me the issue wasn't the tweets themselves but the reporter/employee's apparent unwillingness to take direction from his managers. It's not good to be seen as a loose cannon in any organisation ('Respectful Workplace Guidelines'??), not just news — unless you are sooo super talented, or connected, or have such a big personal brand that you are 'safe' from bosses wanting you to toe the line. (Even then. Consider Keith Olbermann.)
There are plenty of examples of big name journos who have been spat out of organizations (or parted ways amicably) over how they've expressed their opinions 'inappropriately' … but the unnamed crime and safety beat reporter, from the look of things, picked the wrong fight and the wrong ditch to die in.
Choose your battles.