Following some discussion on Twitter about this astroturf political attack machine's activities, I've been asked for these. They're public documents available on the Register of Incorporated Societies …
People wonder about the funding of political PR attack machine 'NZ Taxpayers Union Inc.' Here are its last 3 P&Ls: https://t.co/QRWcLDxVTD pic.twitter.com/XJaPsp2Ic3

— Peter Aranyi (@onThePaepae) July 20, 2017
Funnily enough, I hear there have been moves towards changing the status of the 'NZ Taxpayers Union Inc' PR attack machine — from an Incorporated Society, moving to a Limited Liability company structure with a Company Constitution and a Trust Deed.

I'm not an expert, but I guess the organisers will still want to be able to solicit/accept 'donations' from those (behind the scenes) who value their PR attack machine services.
The organisers will also, I'm assuming, want to be able to, you know, reward those helping the aims of the PR attack machine.
But I can only speculate on what advantages they might see in such a change. Any thoughts?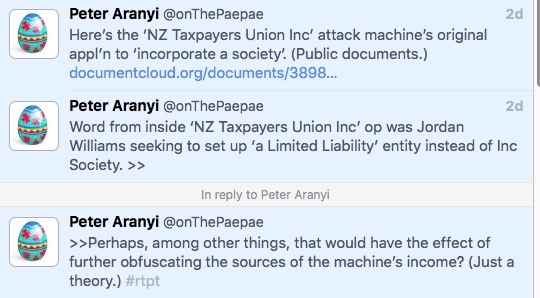 Time for a disclaimer on these roosters
Personally, I've reached the point where I'd like to see news media and others spouting its propaganda attach a disclaimer label like "so-called" when using this attack machine's chosen name – similar to the BBC's use of "so-called Islamic State".
I know it may be clumsy, but the way I see it, the attack machine's use of 'union' is actually misleading – and leads dumbass or lazy journalists to promulgate the attack machine's cynical deceit, like this …
How do you see it?
– P
* These are the 15 people who put their names on file in the application to form the 'NZ Taxpayers Union Inc.' (Besides of course, New Zealand's most defamed man Jordan Williams, who 'fronts' the work of the attack machine in the news media.)
David Peter Farrar
Gabrielle O'Brien
Amanda Richardson
Matthew Stephens
Stephen Leslie Franks
Stephanie Morrison
Hadleigh Pedler
Catharine Mackenzie
Garth Ireland
Bryce Derek Wilkinson
Christopher Edward Westbury
Hamish Gilbert McConnachie
Aimee Sanders
Stephen Whittington
Murray Gibb
I wonder how many, if any of these people are still involved? And what that even means?
And, for interest's sake, these are the financial rules of the 'incorporated society' lodged when the 'society' was formed. What would change, I wonder, under the proposed limited liability entity & Trust Deed structure?
Facts are stated to the best of my knowledge and commentary is my honest opinion. Corrections or clarifications are always welcome by email. Comments are open, but may be moderated.
– Best wishes, Peter Aranyi