Following up on my earlier posts: The road to Mike Hosking, vilifier of young women and Hey RaboDirect, if Mike Hosking's selling you, I'm not buying, the Broadcasting Standards Authority has today released its decision on several formal complaints about Mike Hosking's awful, slanted, nasty attack on a young woman who complained about Prime Minister John Key's repeated harassment at her workplace.
The Authority found Hosking and TVNZ were unfair in their treatment of their target.
Highlights are presented here, and the full decision; my original complaint; TVNZ's response; and my referral to the BSA are available as PDFs below.
Broadly, I think Mike Hosking has been emboldened by TVNZ's slack-arse indulgence of their prince, and previous BSA findings amounting to "Aw, Mike's just a guy with opinions, and you know what? The Bill of Rights Act protects his freedom of speech to spout them, so sorrynotsorry".  The fig leaf of "within audience expectations" is trotted out now and then, too. Well, no.
I was glad to see the BSA recognise and speak to the 'extreme' power imbalance inherent in Hosking's rants from his state broadcaster pulpit; acknowledging TVNZ's role as a 'powerful broadcaster giving this apologist a 'platform' to treat people this way.
This was my first formal complaint to a broadcaster about breaching a broadcasting standard. Hosking, in his enthusiasm to loyally defuse an embarrassing situation for his beloved Party leader, crossed the line, in my view – partly confirmed by the BSA. If you read the decisions at the BSA site, you'll see it's actually quite rare for complaints to be upheld.
I will be interested to see what TVNZ's response to this decision is. I would expect them to broadcast the decision, followed by apology, and for the video clip of his unfair attack to be retracted from the TVNZ website. But I'm not holding my breath. I note the Broadcasting Standards Authority declined to issue an order. Why, I do not understand.
– P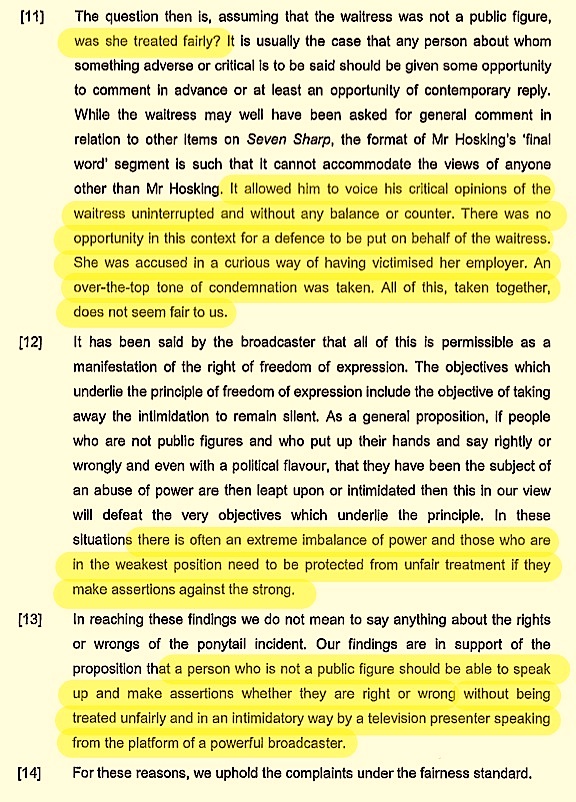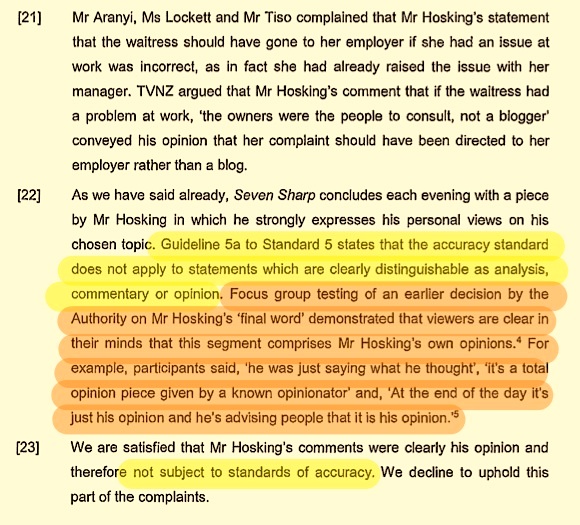 Broadcasting Standards Authority decision PDF 1MB
My referral to the BSA (including original complaint to TVNZ and TVNZ's response) PDF 750KB
[Update: see this comment from TVNZ]