Nice seeing behind the veil for a moment, isn't? I can tell you from my time covering politics, sometimes it's like that y'all.
—
Like others I watched the near total buy-in, adoption and regurgitation of NZDF talking points about the NZ Prime Minister's recent "top secret mission" (um, trip) to "keep his promise" to "visit the troops" in Iraq.
With all due respect to the PM and the hand picked, sworn-to-secrecy political editors who accompanied him on the excursion, the coverage seemed gushy and credulous to me. What came out, mainly, were macho images of John Key — in military garb, dark glasses and a baseball cap. Redolent of George W Bush in a flight suit and 'Mission Accomplished'. So, hollywood, and "OMG, flights delayed by sandstorms! And fog!" Jetstar, anyone?
In 'embedded' situations like this, the media is totally reliant on their defence force hosts and billets … and that almost inevitably colours coverage. That seems unavoidable.
Sadly, we've been snowed and misled by NZDF spin doctors before.
Radio NZ's Mediawatch didn't miss the significance. Their analysis is well worth listening to.
—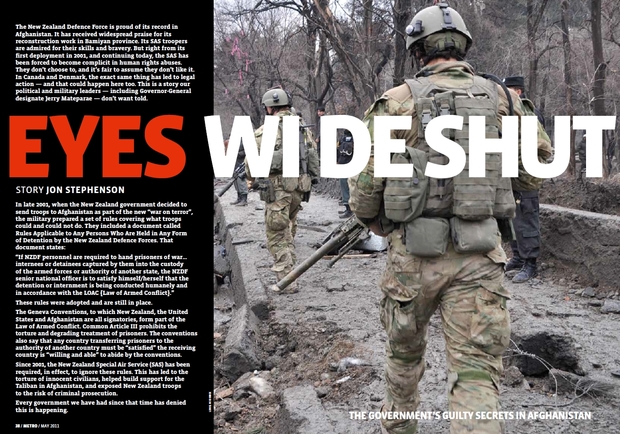 Nor did Mediawatch miss the juxtaposition of last week's cynical PR exercise with the conclusion of another effort to shabbily manipulate media coverage of military operations – the settlement of the defamation case journalist Jon Stephenson took against NZDF when they called him a liar.
I remember being saddened observing former TVNZ reporter Chris Wright flacking hard for the military's indefensible and petulant case at the court hearing. Ghastly. At the time it struck me as a prime example of Upton Sinclair's axiom:
"It is difficult to get a man to understand something, when his salary depends on his not understanding it." — Upton Sinclair.
http://www.thepaepae.com/wp-uploads/2015/10/mwatch-20151011-0910-a_top_secret_trip_to_iraq-048.mp3 2426676 audio/mpeg, http://www.thepaepae.com/wp-uploads/2015/10/mwatch-20151011-0911-a_settlement_that_raised_unsettling_issues-048.mp3 6649144 audio/mpeg