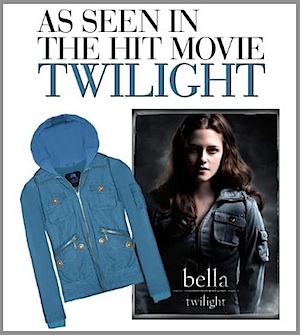 Reuters reported yesterday that film studio Summit Entertainment, which produces the "Twilight" film franchise, is suing a retailer that's selling copies of a jacket worn by actor Kristen Stewart who plays heroine Bella Swan in the movies.
The studio filed a lawsuit against women's fashion designer BB Dakota on Friday for copyright and trademark infringement. On the company's website, BB Dakota advertises a blue cotton canvas jacket like this: "Bella Swann (sic) wears this jacket in Twilight and scores the hottest vampire in high school, and so can you!" …. In the lawsuit, Summit seeks an injunction against further sale of the item, all profits earned from the jacket, and — the horror! — it wants BB Dakota to "deliver to Summit for destruction all Bella Jackets."
Look at the image of one of the BB Dakota ads. I think the studio has some justification in tackling them. So has Kristen Stewart — they've effectively [by name and image] made her an unpaid fashion model or endorser of their clothing line.
Not OK.