Follow this twisted tale … start with Peter WM …
I did a quick Google image search on one of the "People like you" from the rate payer association's website.

He lives in the USA. I contacted him and he's never heard of the association, let alone been a member. pic.twitter.com/bLO22VdzJE

— Peter WM (@pwmxx) February 1, 2018
Which sparked this reply/query from Annabel Young, head of the NZ Shipping Federation who spotted her organisation's logo in the crowd…
Also…what is the NZ Shipping Federation Logo doing there? Never heard of it. https://t.co/OjIIgIUH5K

— Annabel Young (@AyeAye111) February 1, 2018
I know (and like) Annabel. We're Twitter buddies, which is how I saw it, so I suggested she contact the sole director and 100% shareholder of the 'Alliance'… prominent defamee Jordan Williams …
Identity theft?
Perhaps Annabel should ask sole shareholder & director of "Auckland Ratepayers' Alliance Limited" Jordan Henry Williams? >> https://t.co/hfcM87WME9

— Peter Aranyi (@onThePaepae) February 1, 2018
Annabel reported it was 'sorted'…
Jordan has sorted it. https://t.co/65Rsb701bP

— Annabel Young (@AyeAye111) February 1, 2018
… which is great – but led to more questions…
Great that Jordan Williams was able to clear that misunderstanding up for you. Who did he replace you with? Stormy Daniels? Or @coughlthom? pic.twitter.com/ryUHGsGj1U

— Peter Aranyi (@onThePaepae) February 1, 2018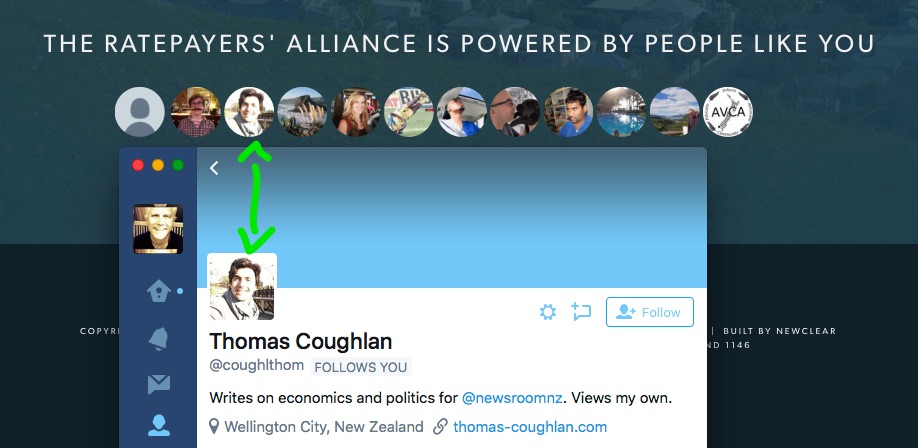 To which Thomas Coughlan said…
Eh? Never been a member of them. Never lived in Auckland and certainly never paid rates there!

— Thomas Coughlan (@coughlthom) February 1, 2018
Now, I'm not going to follow this down the rabbit hole much further, except to say these roosters need a new slogan.
'Powered by people like you' seems to be falling over left, right and centre. Hence:
Any other theories?
– P
No animals were harmed in the production of this blogpost.