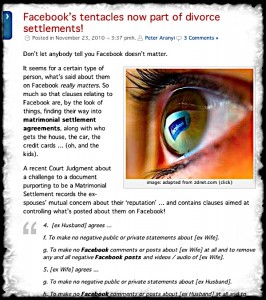 You may remember I quoted from a matrimonial settlement that addressed Facebook accounts and statements thereon as part of the divorce … Facebook's tentacles now part of divorce settlements!
Well, The Guardian is reporting that the family division of the courts in the UK has now joined the fray, in response to online speculation about an injuncted case…
Twitter and Facebook publication banned for first time in injunction

A high court judge has issued an injunction which for the first time explicitly bans publication of information on Twitter and Facebook.

The order, made by Mr Justice Baker in the court of protection – linked to the family division of the high court – places a specific ban on publishing information on any "social network or media including Twitter or Facebook", as well as in other media.

The normal orders issued by the family division judges to prevent identification of children and others involved in cases simply ban publication of specified information in "any newspaper, magazine, public computer network, internet website, sound or television broadcast or cable or satellite programme".

The decision follows the publication on Twitter over the weekend of a number of tweets purporting to reveal the identities of celebrities involved in "superinjunctions", which wrongly named Jemima Khan as one of them. …  Full story at The Guardian
Interesting that this matrimonial stuff is at the vanguard of attempts to suppress discussion/protect privacy, huh?
Good luck with that. – P
On a side note, the Guardian article notes:
Twitter's UK traffic rocketed to its highest level ever on Monday 9 May, apparently as people searched for the names.
Is it just me, or does that read like an indication of sad, empty lives?