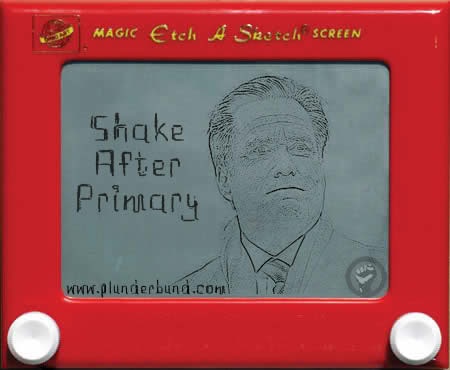 I haven't got much to say about the debate yesterday. (I watched it.)
Romney, as discussed, it seems to me, will say anything, whether he believes it, or whether it will stand scrutiny or not,
The 'Etch-a-sketch' illustration his campaign organiser Eric Fehrnstrom forecast in March (wherein Romney could pretend to be a 'conservative Republican' for the primaries, then bait-and-switch to a 'moderate Republican' for the election) certainly made an appearance.
"Everything changes," Mr. Fehrnstrom, 50, said on CNN, with a slight smirk that suggested he believed he was about to use a clever line. "It's almost like an Etch A Sketch. You can kind of shake it up and restart all over again."
But I didn't expect such lies. More fool me.
– P
Update: Paul Krugman in the New York Times Romney's sick joke;
What Mr. Romney did in the debate, in other words, was, at best, to play a word game with voters, pretending to offer something substantive for the uninsured while actually offering nothing. For all practical purposes, he simply lied about what his policy proposals would do.
Reminds me of another politician…