Not a great look for RadioLIVE just as their excellent TV spots boosting their 'breaking news' brand get under way. Ouch. Breaching the Broadcasting Act.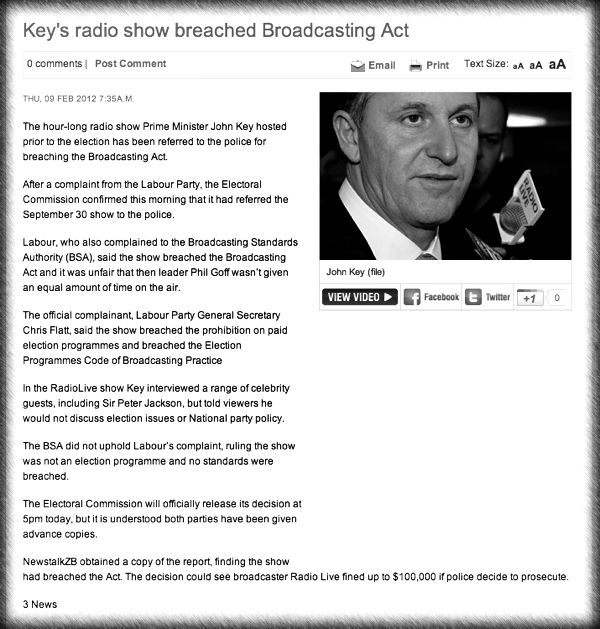 I preferred the Broadcasting Standards Authority's description of John Key's (let's-face-it:-pretty-entertaining-but-maybe-for-the-wrong-reasons) 'politics free' radio show as 'light flim-flam and frivolity'.
No doubt the legal advice RadioLIVE sought prior to the broadcast will give them a sense of assurance that this will all work out well for them. We'll see. Radio NZ reports that
…Radio Live was warned against airing the show, but it chose to test the boundaries without offering the same opportunity to other political leaders.
The intersection between news and talkback radio ('newstalk') is fraught with tricky 'programming' compromises like this, in my experience.
It should be no reflection on the station's reporters and newsroom staff  what programmes do … but it's sometimes a hard distinction to make since they share the same 'brand'. That, and the equally-hard-to-shake awareness that RadioLIVE has fair dripped with former or current National Party MPs or candidates, with a few notable exceptions, over the years.
As former drive time host – now National MP – Maggie Barry, said: 'Being opinionated is contagious on this station, isn't it?'
I wish them well.
– P