Radio NZ News this Waitangi Day morning …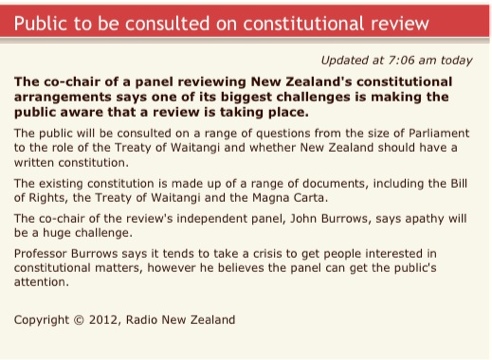 The co-chair of a panel reviewing New Zealand's constitutional arrangements says one of its biggest challenges is making the public aware that a review is taking place.
The public will be consulted on a range of questions from the size of Parliament to the role of the Treaty of Waitangi and whether New Zealand should have a written constitution.
The existing constitution is made up of a range of documents, including the Bill of Rights, the Treaty of Waitangi and the Magna Carta.
The co-chair of the review's independent panel, John Burrows, says apathy will be a huge challenge.
Professor Burrows says it tends to take a crisis to get people interested in constitutional matters, however he believes the panel can get the public's attention.
What a statement! (it takes a crisis)
This is the constitutional review Winston Peters referred to in alarmist tones at his Kelston campaign speech last year. Personally, I think it's a good idea to have a review, to korero and seek reconciliation.
Maintaining a position of 'silence' on important matters is infantile —akin to fingers in the ears 'la-la-la-I-can't-hear-you'.
These issues, our constitutional 'arrangements' are the test of our nationhood, and refusal to engage in the discussion/argument because you might 'lose',… or labeling those who disagree with you as greedy or corrupt 'scum' as some do, demonstrates immaturity greatly at odds with the great statesmen of our nation — Maori or Pakeha (or both).
History is written by the victors, some say, but injustice buried is never truly settled. Consider South Africa's Truth and Reconciliation Commission and its mission.
Expose the truth, acknowledge past misdeeds, redress where possible … then we can 'move on'.
– P