I briefly mentioned the challenges someone advocating for 'better' can face, with other 'crabs in the bucket' pulling them back as 'sanctimonious and hypocritical' (see Choking on one's own sanctimony …)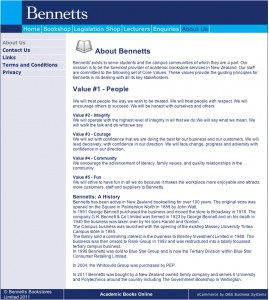 Here's nice model from Bennetts Bookshops … pointing to their 'Core Values'.
Bennetts exists to serve students and the campus communities of which they are a part. Our mission is to be the foremost provider of academic bookstore services in New Zealand. Our staff are committed to the following set of Core Values. These values provide the guiding principles for Bennetts in its dealing with all its key stakeholders.

Value #1 – People
We will treat people the way we wish to be treated. We will treat people with respect. We will encourage others to succeed. We will be honest with ourselves and others.

Value #2 – Integrity
We will operate with the highest level of integrity in all that we do.We will say what we mean. We will walk the talk and do what we say

Value #3 – Courage
We will act with confidence that we are doing the best for our business and our customers. We will lead decisively, with confidence in our direction. We will face change, progress and adversity with confidence in our direction.

Value #4 – Community
We encourage the advancement of literacy, family values, and quality relationships in the community.

Value #5 – Fun
We will strive to have fun in all we do because it makes the workplace more enjoyable and attracts more customers, staff and suppliers to Bennetts.
Of course, it helps that they're not blogging critically about others (!), thereby not making themselves a target. But still, nice work … declaring where they're coming from and publishing aspirational statements.
It's important and useful, I think, to do that in a positive way, rather than just what I called 'anti-matter' self-definitions.
– P