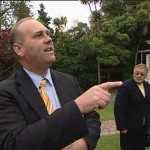 For those interested, a move to get the Howick Local Board to even discuss the pending drink-driving and related charges against the Board's chairman Michael Williams FAILED at last night's Board meeting.
As previewed in the Howick Pakuranga Times (Challenge to chairman to stand aside), board member Lucy Schwaner attempted to raise as Extraordinary Business her motion suggesting Mr Williams take a leave of absence until his defended hearing on charges of driving with excess breath alcohol and failing to accompany a police officer is complete.
Mr Williams is due to appear at a defended hearing in the Manukau District Court on March 1, charged with drink-driving and refusing to accompany a police officer.
The court action stems from an incident last May. Mr Williams allegedly recorded a reading of 169 millilitres of alcohol per litre of blood, more than twice the legal limit. He says he's been advised by his lawyer not to comment.
Ms Schwaner says the board is being brought into disrepute by Mr Williams' personal problems.
Matters to be discussed in the extraordinary business section of the Board meetings are subject to a vote by members — ostensibly on the grounds of whether they are regarded as sufficiently urgent.
Ms Schwaner's motion — merely to have the matter discussed by the Board — failed by a vote of 3 to 5, with Mr Williams abstaining. That means (to spell it out) these Local Board members did NOT see this as a matter worth even discussing last night:
Jim Donald
Wayne Huang
Steve Udy
John Spiller
Shirley Warren
For the record, I attended the meeting last night and in the public forum (before the business part of the meeting) repeated my call from last month (see Bunfight at Howick Local Board) for Michael Williams to step aside as chairman until the charges against him are resolved one way or the other.
This is what I said:
There was no response, and then it appeared Mr Williams had the numbers to block-vote against even discussing the proposed motion that he be encouraged by the Board to take a leave of absence.
The October election beckons. Democracy in action.
– P