Now that the Ports of Auckland has admitted it, I haven't got much to add to my earlier 'Lie down with dogs get up with fleas' comment in 'Garner: "@whaleoil lies again." Surprise me' about the Ports company leaking their personnel records to a sympathetic (at best case) blogger.
Today's Yesterday's NZ Herald editorial: Port's misuse of private files lamentable is worth a read — although it focuses solely on the Port company's actions, and not on the advocacy-verging-on-hate-speech and odious denigration tactics used by website operator/attention-seeker Cameron Slater — whom the NZ Herald so elegantly describes as 'a pro-company blogger'.
Yes. Cameron is very 'pro-company', it seems — or is he simply anti-Union? Whatever he is, it is purely as a hobby, apparently. ('I have not accepted or received any money from Ports of Auckland, not 1 cent let alone $10,000,' he asserted in response to scrutiny at The Standard). Or perhaps he's acting from conviction. (Not that kind of conviction!) Or it could be like his promotion of Simon Lusk's discreet, behind-the-scenes political 'campaign strategy' services — for 'a mate' … d'ya think?
The company has effectively acknowledged that information on worker Cecil Walker came from his employment file. Without directly admitting its role in the leak, Ports chief executive Tony Gibson has written to the Maritime Union and apologised to Mr Walker "for any distress he may have felt". Further, he says "the release of the information was intended purely as a direct response to Mr Walker's commenting negatively" about the port company. To know the "intention" of that release is, of course, to know the identity and motivation of the leaker. But a "he did it first" attitude is not a mature basis on which to make managerial decisions.

Mr Walker had been mildly critical of the port company on radio at a highly charged time. His comeuppance was to have information on compassionate leave that he was afforded by the company around the time of his wife's death made public through the Whaleoil blog.

The implication was that he was ungrateful. The level of detail published could leave no doubt as to its origin. Indeed, it followed a similar personal information leak days earlier to the same blogger about another worker who appeared on television with family members and commented on the company. Cue leaked details of accident compensation issues involving the worker. And another whose daughter said on video her dad was not a troublemaker only to see his disciplinary issues at work aired on the blog.

Someone within the company had decided to hit back at unionist critics by way of the personnel filing cabinet. Someone on the industrial, human resources or public relations strategy teams, no doubt. Someone sufficiently senior to risk ethical and legal breaches to send a message to the union that fire would be met with fire.
I personally think the Port company management will come to regret these 'ethical and legal' lapses, and what's seen as their intimidatory and vindictive tit-for-tat actions against employees and their union. Industrial relations aren't helped by such 'dark arts' PR tactics and union-busting ideology. Whoever at the Port company leaked the personnel records should be exposed, as should their authorisation.
The Herald editorial demonstrates what we already knew: 'strategically' feeding its employees' private information to this right wing attack blogger has cost the Port Company credibility. 'Lamentable' is a fairly soft word for the Herald to use, but the company stands condemned by its own admission of PLAYING DIRTY.
Not just the Ports company losing credibility
We already knew Cameron Slater plays dirty. Now, according to the avuncular Chris Trotter, as a consequence, Slater faces the "complete loss" of any "journalistic credibility [he was] beginning to establish in the mainstream media".
I've made a similar point myself before, referring to Cameron Slater's defective moral calculus. By being untruthful, and acting unethically and unlawfully Cameron risks making himself repellent to larger media opportunities except as a performing seal. (From personal experience, for making such an observation, Chris should expect, any minute now, a petulant missive from Cam's wife Juana, chastising him and cataloging his [alleged] character flaws.)
It may seem harsh to say it, but Cameron's narcissistic argument "I didn't do anything wrong" [by publishing the privacy-breaching information] … "The person who leaked it [to me] may have, but I certainly didn't ]" is his typical specious, hallucinatory nonsense.
Worse, Cameron's media ethical-legal 'analysis' (cough) demonstrates the risk media producers take with him: Cameron is what I referred to when producing NewstalkZB's Paul Holmes breakfast as 'a radioactive potato' — one-eyed, unreliable, and likely to inflict a media outlet with stigma, reducing its credibility. Like catching fleas.
More clever, restrained, effective — and much better regarded — right wing opinionistas like David Farrar and Matthew Hooton face no threat of displacement from Cameron, it seems to me.
His self-serving "I didn't do anything wrong" BS might play well to the largely anonymous ADD choir in his blog's comment stream, or on splinter group radio searching for relevance in a crowded market.
But like Justice Harvey who called Cameron Slater's explanations to the police for his calculated name suppression order breaches "naive and evasive" and Law professor Andrew Geddis who suggested that Cameron displays "moral cowardice" rather than principle … perhaps after this episode — yet another 'ethical and legal breach' — just perhaps, as Chris Trotter suggests, mainstream media may not have quite the same appetite for propaganda from such a loose cannon.
Some may still, I guess. Woteva.
Just my opinion.
– P
PS On 'playing dirty', Cathy Odgers, another right wing blogger who's been happy for her Cactus Kate blog to do duty as a propaganda channel for the Ports of Auckland company tweeted this: "MUNZ don't even know they r getting ratfucked by the POAL Plan B. Loving watching it."
Hardly edifying.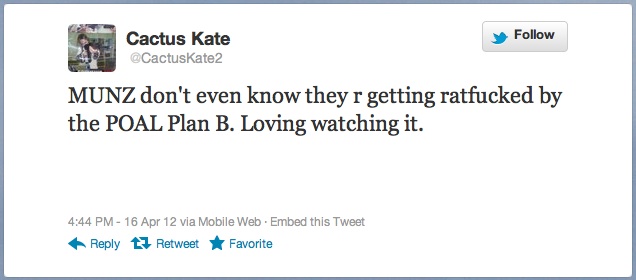 A longtime ACT party member, Cathy Odgers denies she's Cameron's minion — despite their somewhat obvious codependence — and says she's a hobbyist too:
A Whale subcontractor?
You are fucking joking.
There's one more reason I do things – love
And I love smashing up Unions
Good to know, Cathy. Good to know.