Let's just put a pin in this and come back to it later …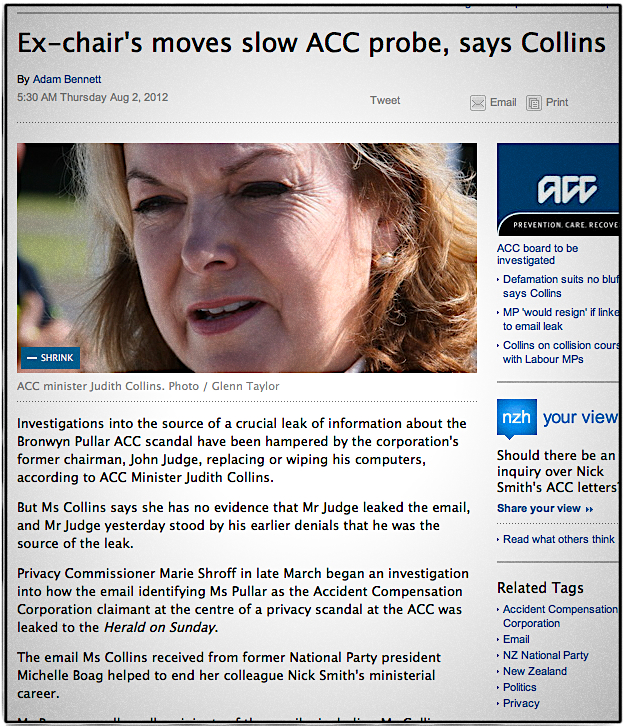 Ms Boag, as well as all recipients of the email – including Ms Collins, ACC chief executive Ralph Stewart and Mr Judge – have denied leaking the email.

But Ms Collins told the Herald last night that the email from Ms Boag was forwarded to Mr Judge's personal and only email account.

She had been advised by ACC that Mr Judge had his home computer replaced some time in April, and his old one "is no longer able to be accessed".

"In addition, I've now been advised that Mr Judge was given an iPad from ACC … and that iPad was wiped clean by Mr Judge's computer expert before it was returned to ACC in June."

Ms Collins told the Herald: "I am aware now that that is an issue around being able to access the forensic data which would normally be on the computer."

Ms Collins said she could make no further comment because the matter was still subject to the Privacy Commissioner's inquiry.

Mr Judge was unavailable to respond to Ms Collins comments last night but earlier yesterday said he did "absolutely not" leak the email.
From Adam Bennett NZ Herald – Ex-chair's moves slow ACC probe, says Collins
Caption competition, anyone?
– P
UPDATE (so soon!):  Oooh, look: John Judge has responded, describing the 'wipe' claims from the Minister as 'pathetic' and saying they 'are untrue and an attempt to "blacken" his name' – see Adam Bennett's follow-up Ex-ACC boss denies Collins' claims
Former ACC Chairman John Judge says ACC Minister Judith Collins' claims he hampered an investigation into a the leak of a sensitive email are untrue and an attempt to "blacken" his name. …

… Mr Judge said Ms Collins was aware that he replaced his home computer before the Privacy Commissioner's inquiry was announced.

"Everything was transferred from my old computer to the new one anyway. It's not like anything disappeared."

Furthermore, he was not able to receive emails on his ACC iPad anyway.

He said Ms Collins "knew the truth" and was "just trying to blacken people".

The email was among documents submitted by ACC to police to support a complaint it made against Ms Pullar.