Duncan Greive* at The Spinoff has published a really worthwhile interview with the rich, white, social conservative businessman Wayne Wright whose wealth is funding that internet radio platform, 'The Platform', which I cited recently. (And which seems to me to be inching its way towards Alex Jones InfoWars/Qanon/antivax 'conspiracy' territory.)
If you're interested in media in New Zealand, this is essential reading:
Seriously, go and read it at The Spinoff. (Make sure you have something in your stomach.)
Oh? He's a big fan of Mike Hosking?
Apparently Wayne Wright is enormously impressed with Mike Hosking.

Gee that's funny, Wayne. Mike's made an impression on me too — just not a positive one. see e.g. The road to Mike Hosking, vilifier of young women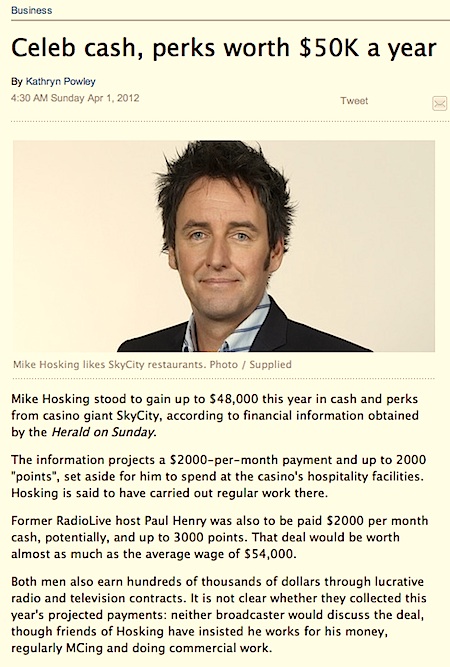 Also, funny that Wayne Wright mentions he loved Paul Henry too.
Of course some of us remember that Paul Henry and Mike Hosking were both secretly funded (lol) by casino operator SkyCity … to act as 'SkyCity Ambassadors'. That meant using their media platforms (Hosking NewsTalkZB and TVNZ at the time; Paul Henry at RadioLIVE) to give SkyCity executives long, soft blowjobs— I mean interviews … and to generally be, well, (sorry boys) "in the pocket of SkyCity" seems an apt way to describe it. (Hosking said he worked for that money. Oh yes, I'm sure.)
Eventually people noticed, and some of it came out. Awkward.
I recall Hosking's heroic attempt at a 'Nothing to see here, folks' defence… in fact I posted it here: Mike Hosking: 'a note of some clarification' re SkyCity
Anyway, I for one welcome Wayne Wright and Chloe Wright coming out of the woodwork to stand up for their previously secret funding – well, confidential, for a while, anyway. (I recall Plunket being unwilling to tell Duncan last time he asked.)
It's good to be able to read about the values and motivations of the people behind this post-truth propaganda machine. We ain't broadcasting, so we're not subject to the Broadcasting Standards Authority; and we're not publishing, so we're not subject to Media Council standards neither.
The Wild West?
'The Platform' seems obviously a white conservative backlash in action. References to the 'Silent Majority' in the interview with Wayne Wright, and how he expresses his views on the effect of racism in Aotearoa New Zealand, to me evoke Nixon's racist Southern Strategy, and Reagan's awful pandering to white evangelicals (the Moral Majority etc). Both saw the manipulation of white racists and Christian believers to aggregate and support various corrupt, anachronistic wind-backs of civil and human rights.
And look where that has got the USA. Too bad.
– P
*Whose surname is probably more routinely misspelt than mine. Tsk.
http://www.thepaepae.com/wp-uploads/2015/04/Mike-Hosking-Seven-Sharp-23Apr2015.mp3 691641 audio/mpeg