I've been refraining for the most part from entering into any debate and discussion about Mike Hosking being incisively declared a stooge of the National Party and consistent defender/sycophant of John Key by Winston Peters – see Winston Peters: Mike Hosking's Pollyanna world lets us all down (which, coincidentally included a euphemism for arse kissing I honestly did not understand till someone explained it to me.)
I am, after all, still waiting for the Broadcasting Standards Authority's determination on my and other people's formal complaints about Hosking using his state TV pulpit to attack and demean a victim of the Prime Minister's repeated harassment. (See Following through on a complaint to TVNZ RE Mike Hosking's lack of fairness.)
But there have been some developments.
First, challenged by Winston Peters about failing to adhere to journalistic standards, Hosking used his NewstalkZB breakfast show to deny he is a journalist — "That's not true, never has been," he said.
Which, speaking as a producer for that same NewstalkZB radio show for five years – when it was the Paul Holmes breakfast – surprised me. I'm certain I was hired for that role primarily for my journalism skills and experience i.e. to produce a news show — and I'm pretty sure, despite the imaginative soap operas and soliloquies that Holmes frequently performed, that our listeners tuned in at least to be "informed and entertained" with up to the minute news and current affairs.
I can also tell you our 'competition' for newsmakers and interview subjects the whole time I was at NewstalkZB  was Morning  Report. It was a news show.
In so casually discarding any obligation to journalistic standards Hosking (who let's face it, became 'a name' via his stint as a host and interviewer at Morning Report) is being altogether too slippery and convenient. Personally, I don't buy it.
It reminds me of this exchange with another slippery Party stooge who didn't like being pressed to observe basic journalistic standards: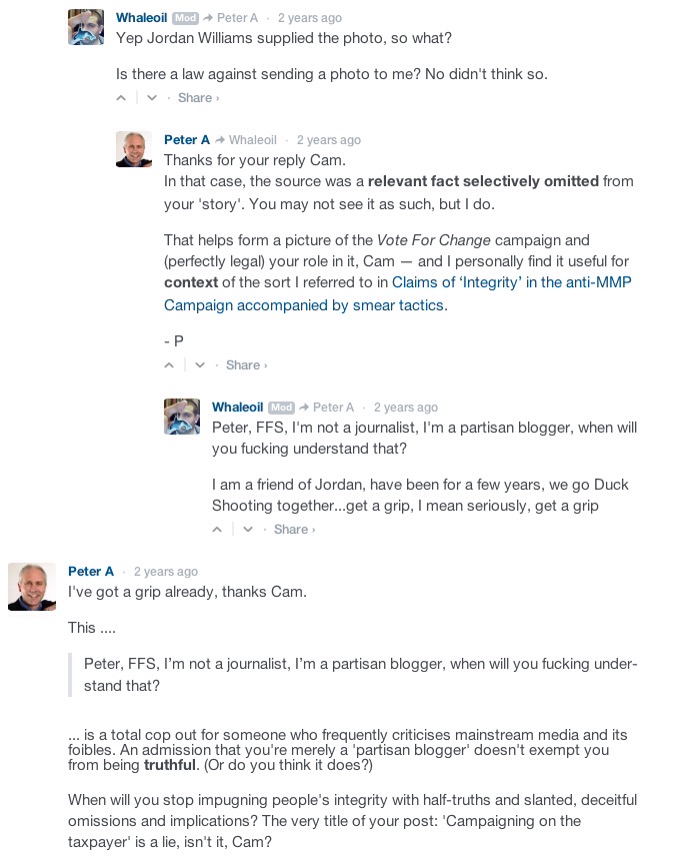 Of course, faced with a defamation lawsuit which threatened to expose the identity of Slater Jnr's "clients" – who [allegedly] engaged his comnercial attack website to  carry out a smear campaign/vendetta against a failed Auckland businessman – Slater Jnr now seeks to wrap himself in the garb of a journalist and 'a news medium' protecting its (cough) sources. But that's another story.
So, anyway, Hosking told his ZB listeners he's not a journalist. Then, on Thursday this week in his NZ Herald column, relitigating the 'argument' with Peters, despite disavowing a desire to do so, Hosking wrote this:
I am not a journalist. Much commentary was served up on the basis I was. … So, as many a story went, because I was a journalist I was then supposed to be upholding some age-old tradition that balance wins the day, no editorialising should ensue, and having an opinion is out of the question.
Again, let's leave aside the shallow pap about the place of 'opinion' and editorialising for another time. The point Hosking seems determined to make is: "I am not a journalist, never have been, so don't you be holding me to that standard". Do you agree?
Well, that's got to be err, news to TVNZ who scrambled to change their tune.
TVNZ's Head of News John Gillespie just last July, defended the state broadcaster's at the tine controversial choice of Mike Hosking as the moderator of a General election TV leaders debate. Gillespie expressed his total confidence in the not-a-journalist-never-have-been Party stooge's professionalism — as a journalist. Oops.
Last night TVNZ said it was standing by Hosking. Head of news John Gillespie said: "Mike is our man. He's there every night [on Seven Sharp]. I don't have an issue with it, I absolutely believe in his journalistic credibility. So, if Labour want to talk to me in further detail about that I am happy to chat. But, he's our man." (Emphasis added)
So that was last July. Yesterday, an observer Barbara Sturmfels tweeted an image of Hosking's potted bio on the TVNZ website where a significant amendment seemed to suddenly take place:
So on the Thursday Hosking's denial of ever being a journalist was published in the NZ Herald, TVNZ was still telling the world he was. But by the next day, Friday, without any fanfare (nor even acknowledgement that the page had been edited) that bold assertion was… excised.
Oh dear. Things are looking a bit disordered and improvised, aren't they?
Not very convincing.
– P
Update: Actually, maybe Hosking has a point. I mean what kind of journalist would write a post-election article like this? Yes, it's far more likely to be 'work' of a Party stooge/promoter, just as Winston Peters suggested.