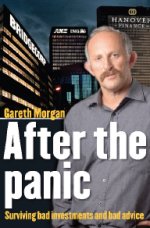 It's emerged that the latest book by economist Gareth Morgan After the Panic is being recalled because there's "a mistake that must be corrected" (see notice from the publishers here PDF) … a new edition is being readied to replace the first edition (now a collectors' edition?)
This self-styled "straight shooting" book was launched just last month with much fanfare along the lines of "Gareth Morgan roots out the crooks" (e.g. TV Close up Interview) and with an inspiring note in the acknowledgements:
So many books try to expose bad behaviour and even worse practice but stop short of presenting specific examples. Despite the mass destruction to New Zealanders' wealth that the financial sector has wrought, the avenues of redress that ordinary folk have are so woefully inadequate that justice and accountability remain elusive. This reality is something our regulators should be ashamed of and it requires urgent redress if the individuals behind the offending companies are to be stopped from once again performing their tricks with impunity on another generation of Kiwi saving suckers.
These are laudable sentiments and aims, to be sure, so it's a shame that something in the book appears to be 'mistaken'. It seems likely the 'victims' of the 'mistake' have applied pressure to the publishers for this resolution, as this exercise is very expensive, and, in my experience, rarely triggered without good (legal) reasons.
That's just a hazard of the tell-it-like-you-see-it approach, which, to my slight chagrin at times, I also tend to suffer from. Continue reading →