There's not a lot of pride evident in this.  A friend recently emailed me a link to this mealy-mouthed interchange on the Sni.pr support FAQ page — about the founder(?) and chief salesman of the new 'internet marketing' scheme, Shaun Stenning. It seems to back up my earlier thoughts.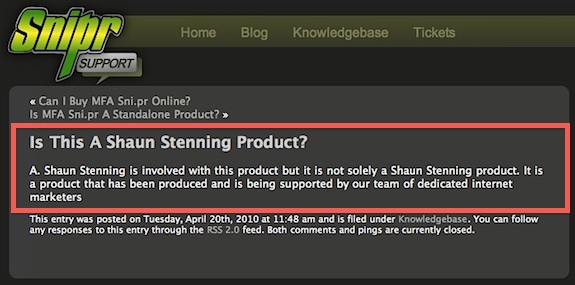 Presumably this
Frequently Asked Question (!)
flows from the stigma attached to
Shaun Stenning's damaged reputation
following the implosion of
Geekversity
which he had been so
prominent in promoting (YouTube clip)
. As we
discussed
, Stenning appears
conspicuously absent
from promotional material for Sni.pr Australia — wherein the Sorcerer's apprentice, Instant Expert and former Geekversity affiliate
Dean Letfus
features as
The Man who makes a lot of money through internet marketing.
(Oh, really? Of what? Internet marketing schemes?)
Look at this revealing double-talk Q&A from the Sni.pr support FAQ: Continue reading →