It's OK! I'm not going to give the top ten tips for attracting more eyeballs to your website … this is just an example of good marketing, in my opinion. What worked. Well, sort of.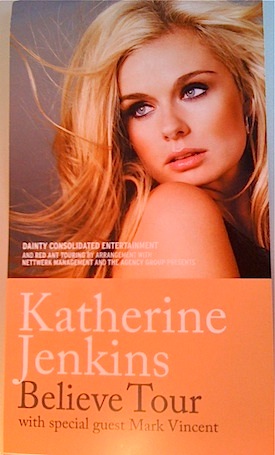 It started at the East Village Takeaways (in Howick, not NYC, as my recent visitors from the East Village, New York and I chortled together). I was waiting for Special #4 when I glanced at a poster of a beautiful woman with a mane of golden hair. Wow. Stunning — a real retro look with a timeless face.
Call me ignorant if you want, but I hadn't heard of Katherine Jenkins before. And call me shallow, but that face was alluring… What sort performer is she? I wondered. What's this 'Believe Tour'? When is it?
There wasn't a lot of detail on the poster so I made a quick mental note in writing (as Olly Newland says) and a few days later popped her name into Gary Google. Images of this stunningly beautiful woman poured out of the interwebs, including this one from GQ magazine, reproduced at the Daily Mail (er, good golly): Continue reading →