315 million reasons to build an internet following … Well done to the crew at Huffington Post. I guess.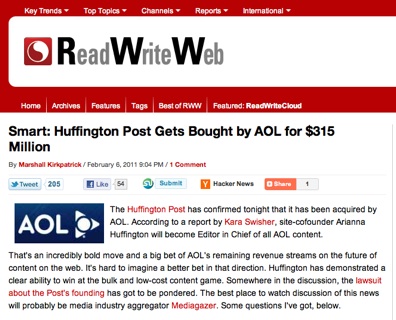 Huffington Post Gets Bought by AOL for $315 Million

The Huffington Post has confirmed tonight that it has been acquired by AOL. According to a report by Kara Swisher, site-cofounder Arianna Huffington will become Editor in Chief of all AOL content.

That's an incredibly bold move and a big bet of AOL's remaining revenue streams on the future of content on the web. It's hard to imagine a better bet in that direction. Huffington has demonstrated a clear ability to win at the bulk and low-cost content game. Somewhere in the discussion, the lawsuit about the Post's founding has got to be pondered. The best place to watch discussion of this news will probably be media industry aggregator Mediagazer.