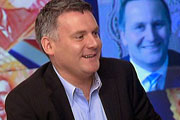 'Explosive' is one of those words that gets kicked around in politics and political reporting to the point where it's almost lost its meaning.
But it's not an exaggeration to describe right wing spin doctor and self-declared National Party loyalist Matthew Hooton's performance on RadioLIVE this morning as incendiary. He effectively called Prime Minister John Key 'dishonest', said the PM's office and chief of staff Wayne Eagleson is implicated in the Dirty Tricks scandal (viz. the SIS-Goff-OIA affair) and more, described Jason Ede's black-ops brigade as 'acting under orders'.
And in a fiery exchange, he described former National Party President (and present-day apologist) Michelle Boag as 'a hack' with 'no political views' who is 'all about is defending a government that has behaved in ways that [are] literally indefensible and you know it' …
Listen for yourself.
UPDATE: The 'fiery exchange' has now been highlighted as a RadioLIVE editor's audio pick here.
—
Available on demand at RadioLIVE.co.nz dial up Sunday 10am.*

* I've archived it here too (audio player below) because RadioLIVE only keeps 7 days audio available and I've noticed sometimes Mediaworks launders its talkback station's audio feed when things get … contentious.


Mark Sainsbury hosts 'Sunday morning' at RadioLIVE with guests Michelle Boag, Mike Williams, Matthew Hooton & Duncan Garner 31 Aug 2014
MP3 file
– P
http://www.thepaepae.com/wp-uploads/2014/08/Boag-Hooton-Williams-RadioLIVE-Sunday-morning-31Aug14.mp3 24057464 audio/mpeg