This transcript of a recent interview by Leander Kahney with former Apple Computer CEO John Scully about founder and rescuer of Apple Steve Jobs is fascinating, if you care.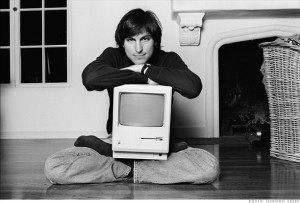 Just one clip (seriously, go and read it):
Sculley: It's okay to be driven a little crazy by someone who is so consistently right. What I've learned in high tech is that there's a very, very thin line between success and failure. It's an industry where you are constantly taking risks, particularly if you're a company like Apple, which is constantly living out on the edge.

Your chance of being on one side of that line or the other side of the line is about equal. Sometimes… he [Jobs] was wrong tactically on a number of things. He wouldn't put a hard drive in the Macintosh. When someone asked him about communications, he just threw a little disk across the room and said, "That's all we'll ever need."

On the other hand, Steve led the development of what was called AppleTalk and AppleLink. AppleTalk was the communications that enabled the Macintosh to communicate to the laser printer that enabled… desktop publishing.
I have appreciated my Macs over the years — I bought, new, Aldus Pagemaker 2 which was a revolution in publishing, truly a revolution. Pagemaker, a Macintosh and a Laserwriter changed the world of print — as much for the power and simplicity of the hardware/software as the design aesthetic embodied in them.
Much of that impact was directly because of Steve Jobs — his taste and his aesthetic, his design sensibilities, as Sculley highlights again and again in the interview. That, and his persuasive charm/insistence.
Wow. What an impact.
Oh, OK, one more clip:
Steve was incredibly methodical. He always had a white board in his office. He did not draw himself. He didn't have particular drawing ability himself, yet he had an incredible taste.

The thing that separated Steve Jobs from other people like Bill Gates — Bill was brilliant too — but Bill was never interested in great taste. He was always interested in being able to dominate a market. He would put out whatever he had to put out there to own that space. Steve would never do that. Steve believed in perfection. Steve was willing to take extraordinary chances in trying new product areas but it was always from the vantage point of being a designer. So when I think about different kinds of CEOs — CEOs who are great leaders, CEOs who are great turnaround artists, great deal negotiators, great people motivators — but the great skill that Steve has is he's a great designer. Everything at Apple can be best understood through the lens of designing.

Whether it's designing the look and feel of the user experience, or the industrial design, or the system design and even things like how the boards were laid out. The boards had to be beautiful in Steve's eyes when you looked at them, even though when he created the Macintosh he made it impossible for a consumer to get in the box because he didn't want people tampering with anything.

In his level of perfection, everything had to be beautifully designed even if it wasn't going to be seen by most people.