If you're having trouble printing to an HP printer after installing the latest (Aug 2012) HP drivers update rolled out via Apple Software Update (er, like I was today crash, crash, crash after installing it last night), here's a fix:
[Thanks to Upton666 at Apple Support Communities who pointed this out]
Upton666
Re: Problem with new HP Printer Software
11/08/2012 9:10 AM (in response to stevemcc)
In Finder navigate to Macintosh HD / Library / Printers / hp / PDEs. Right (control) click on 'hpPostScriptPDE.plugin' and 'Show Package Contents'.

Then open the Contents folder and you will find a plugins folder. DELETE IT and your printer will work.

The old 2.09 version did NOT have this folder and plugin.
https://discussions.apple.com/thread/4192329?start=15&tstart=0
Whew!
– P
UPDATE 24/8/12: Looks like a fix (v2.11) has been pushed through the Software Update system: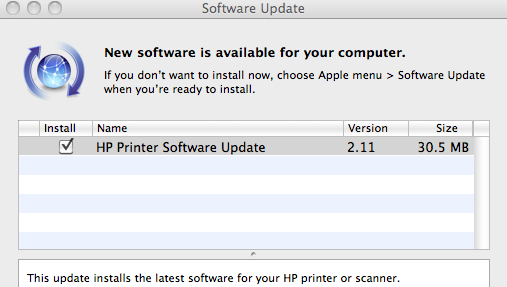 I installed it and all is (still) well.