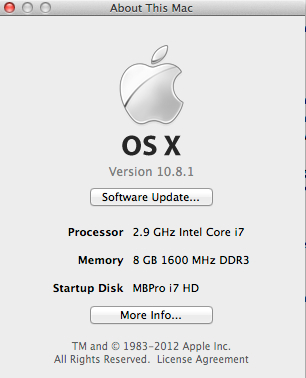 I've had two experiences in the last week which have confirmed my satisfaction with life in Apple's ecosystem.
The first was the morning after I got back from my visit to Wellington last week. I woke up and went to switch my iPhone on and found the power/sleep button on top VERY stiff. This phone's been faultless for the 20 months I've owned it (Dec 2010) and yes it would turn on and off, but the switch was very, horribly stiff. Sumptin' was broken.
I searched the web, saw that other people had had issues and that Apple's response was to give people a replacement phone if they were in warranty. Well! I wondered: 20 months? Hmmm.
I rang the folk at Digital Mobile where I've bought both my iphones (3G and 4) and they cheerfully informed me that they (Vodafone?) supported iPhones in New Zealand with a two year warranty (bless the Consumer Guarantees Act, huh?) They emailed me a copy of my original receipt, which saved my bookkeeper Anita from hunting though the March 2011 year-end files.
A quick chat to the Botany Digital Mobile kiosk ensured the helpful Jessie had a loan phone lined up for me while my phone was 'assessed'. He reckoned it would take 3-4 working days and I'd be sent a new one. He was bang on. I picked it up on Wednesday.
So far, good service. Always a good thing!
Now the ecosystem part of the story is that it was the work of minutes, once I'd received the loan phone, to plug it into iTunes and 'restore' it from the backup of my iPhone I'd made before taking my phone to Jessie. That meant my mail, contacts, texts, settings, even photos & wallpapers (spooky), were all quickly on the loan phone, from the old phone.
Then, when I got my replacement phone (having wiped my data off the loan phone with a few quick commands) I plugged it into iTunes and same deal.
Easy-as. That's the beauty of the iDevices being satellites. (I know the move to backup to the cloud is a different way of doing it, and it's the future.)
Fairly painless migration to OS 10.8 Mountain Lion
Then yesterday, when I replaced my MacBook Pro with this year's version — faster i7 chip, twice the RAM, three times the disk space(!) same unibody construction, it was SO EASY to get my 'stuff' from my Snow Leopard core 2 duo MBPro to the new Mountain Lion machine.
I set it up to migrate from my latest Time Machine backup last night and left it to it while I went off with a couple of pals to watch the All Blacks play Argentina.
There's been a little faffing about with serial numbers and logins (bless you 1Password!) this morning, but really, no big thang.
With my Apple ID in hand, I'm pleasantly surprised how easy it's been to make the move. And the iCloud integration with the iPad & iPhone is very, very cool.
I learned vicariously from Mat Honan, NOT to enable 'Find my Mac' … and I've always been a back-up geek (I bought a new 2 TB drive to act as the Time Machine backup for this machine, and I habitually maintain offsite backups with La Cie's venerable SilverKeeper (which looks like it will still work with Mountain Lion, although I read that they've stopped developing the software).
The new OS is looking very good, the new machine is snappy, and once again I'm left very impressed with how the engineers and software guys at Apple have made things pretty darn easy. Powerfully easy.
Nice work.
– P