The contentious matter of the 'refund movement' targeting 'get-rich-through-internet-marketing' salesman Shaun Stenning … and revealing how he and his associates deal with dissatisfied clients … is unfolding.
The by-all-reports persuasive Australian spruiker Shaun Stenning and various members of his family and colleagues (including 'Mr X' Dean Letfus and Shaun Stenning's former Geekversity confederate Ian Naylor) apparently spent 2009-2010 hyperbolically pitching internet marketing 'products', 'platforms' and 'education' as a pathway to rapid wealth for ordinary people.
A series of live events was held throughout Asia and Australasia, with local promoters including Success Resources (Singapore and Malaysia) and TWD (Indonesia) and other operators portraying Shaun Stenning as a successful internet marketing 'expert'. Promotions were run also targeting Taiwan, Hong Kong, Thailand and Viet Nam as well as Australia and New Zealand, apparently.
All this despite the fairly-public implosion of Geekversity in Australia and NZ (at a AUD$5.5m loss) following a virtual stampede of dissatisfied customers (and their lawyers) demanding refunds for the non-delivery-of-promised-benefits Geekversity 'product'. Things don't appear to have worked out any better for those persuaded by Shaun Stenning's enthusiastic and inspiring spiel this time around, judging by the latest 'refund movement'.
Here's one disappointed client's story (from Jen Huei who blogs at www.guizai.com):
Well, they gave an iron-clad guarantee that whoever made 10 websites within 90 days and see no result afterwards, they will refund happily. They are very sure that it will not be the case else they won't be giving this guarantee. So I think, with the guarantee, why not? right?

Truth is… I made 13 websites within 30 days. Up till now, all websites together made me $0.01, in Adsense. Pathetic…

Without result even though I tried the link wheel method, outsourced articles writing, put up unique content… Well, you may not know… this is NOT mentioned during that sales preview and what they mention is only 7 minutes creating a website with "duplicated content" and your website is ready to make money. I gone for extra miles and implement those SEO stuffs to make it work.

Few weeks back, I asked for refund. Shaun Stenning agreed and well… he honors his word at least. But in return he asked me to sign a release agreement which is obviously is rubbish contract that a lawyer would be laugh our loud after reading it. It's not a contract at all. Along with the failed Twalk program which even Shaun Stenning admits openly in their official blog that this program is NOT working as expected and a high volume of un-satisfaction is received. So, he is offering a refund for everyone who requested, and on 1st March 2011, he sent out a crappy agreement and ask everyone to sign on it.

The lawyer advise us not to sign because if we signed, we will NOT get our refund back, and worst we may get into defamation suit if we 'complain' publicly.

If you are one of the customer of Shaun Stenning, or thinking to be one… read this blog thoroughly if you don't want to lose your money. [Comment: Thanks for your reference to thePaepae.com JH, – P.]

As of today, the Twalk website is suddenly offline, their Dollar Rose company website is also offline…

So, what is that all sounds? Shaun Stenning said that he will take the path as a winner to take all the responsibility and refund to everyone, 100%. But then he made a lot of sneaky tricky thing to purposely cause the refund process to be a bumpy journey, and now he even shut down the website and so all the refund evidence is gone.

Is that a winner behavior? I don't think so… — Guizai.com
A series of conflicting messages and so-called 'deadlines' for a "100% refund" has been published by Shaun Stenning who operates various businesses under the names Dollar Rose, Surefire Marketing, SS&SJ Marketing etc and using the brands twa.lk, sni.pr, Flawless Content, Quality Backlinks etc. — some of these in tandem with his brother and junior 'internet expert' Matt Stenning.
In response to what they see as complex, one-sided and confusingly-written 'Release Agreement' and 'Statutory Declaration' documents — issued by Shaun Stenning as part of his supposed twalk2 'refund process' (the "crappy agreement" referred to in the blog above) — a number of his clients in various countries have formed alliances in an attempt to:
(a) get good legal advice and
(b) negotiate better arrangements for the promised refunds.
[Disclosure: I have been approached by some in Malaysia with a request that I act as a 'mediator' between them and Shaun Stenning. I have agreed to assist if I can, pending Shaun Stenning's agreement to my involvement.]
Blogger Jen Huei updated his blog with this simple advice about the documents: "DO NOT SIGN."
As noted in the blog above, a number of Shaun Stenning-associated websites seem to be 'suddenly offline', including
and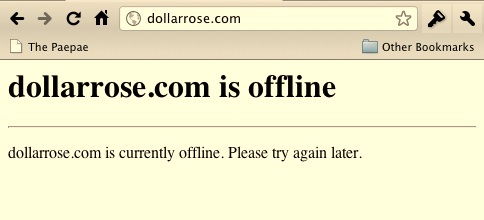 and
and

This sudden 'Unprofessional Unavailability' of websites (temporary or not) and erratic communication from Shaun Stenning must, surely, greatly reduce people's confidence in Stenning-related enterprises and offers. That's a natural consequence, it seems to me. And that's what another Stenning client and fellow blogger Lee Pei Ru demonstrates.
I've quoted Ru's Life Journal before, her article 'Shaun Stenning: The Expensive Lesson – But is it really over?' … in this post, Another voice on Shaun Stenning. This, below, is her muted and rational-sounding follow up:
Read Ru's full blog post here.
—
On another front, the Stenning sales troupe also, apparently, sold USD$10,000 per unit 'investments' in their company Dollar Rose — pitched in these terms on a still-operational-at-the-moment website by Shaun Stenning's brother/business confederate Matt Stenning:
Let me give you the highlights of this investment opportunity:

Minimum Investment Amount is $10,000USD
Investment return can be

guaranteed fixed return of 100%

(eg: invest $10000 USD and receive $20,000 USD)
Investment return can be not-guaranteed with a share holding in the company
Investment secures you a share in a Dollar Rose Investment Company
Investment is secured via a Share Lien and Loan agreement over the intellectual property of a Dollar Rose Operational Company
Investment will be used in the software development of a new Internet Marketing Software
Investors will receive a free copy of the software upon launch which will retail at around $5000 USD.
I don't know how many people chose to take up the Dollar Rose 'investment offer'. (I personally wouldn't.) They say they sold out two earlier 'Opportunities'. Nor do I know how that has worked out so far —especially the 'guaranteed fixed return of 100%' aspect — but from some of the 300+ comments in the 'Is this how Shaun Stenning handles a request for a refund?' thread, and the non-functioning Dollar Rose website, one is entitled to wonder, don't you think?
Can anyone shed light on this? – P
Facts are stated to the best of my knowledge and commentary is my honest opinion. Corrections or clarifications are always welcome by email. Comments are open.
– Best wishes, Peter Aranyi © 2011 All rights reserved.
Other relevant posts:
1. Is this how Shaun Stenning handles a request for a refund?
2, In defence of Shaun Stenning — (update: FAKE) Jennifer from Oz
3. Q: Is this a Shaun Stenning product? A: Er, cough. Well, yes and no …
4. Anonymous comment vs IMPERSONATION
5. … including but not limited to internet blogs …
6. The Stenning Tweebs try to roll with the punches